UPDATE: Third person arrested after woman's grave unearthed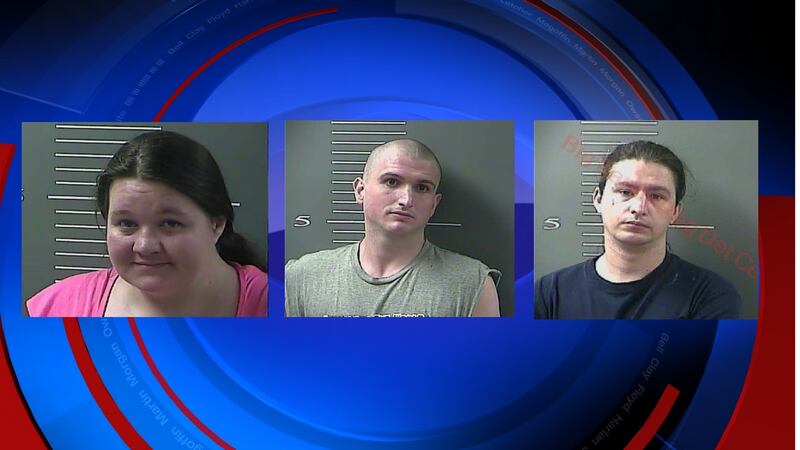 Published: Jul. 31, 2017 at 7:18 PM EDT
A third person was arrested Wednesday in connection with an uncovered grave in Martin County.
Deputies charged Jennifer Luster with violating graves. She is accused of driving James Howard and Tea Luster to and from the grave.
Early Tuesday morning, Martin County deputies arrested James Z. Howard, 33, and Tea J. Luster, 26, both of Inez, in connection with the disturbance of Emily Howard's grave.
James Howard is the grandson of Emily Howard, the woman whose grave was dug up.
Family members said there was a couple who came forward and said they saw Howard and Luster in the graveyard.
"The Devil's got so many people blinded with the drugs and the things that nothing will surprise you, they'll do anything to get what they want," said George Jude, Emily Howard's Grandson-In-Law.
Jude said Howard told them he dug up the grave because he believed there was money or valuables inside.
However, Jude said, "He should have known better because he was there in the funeral and he knew she didn't have much to start with."
The family said knowing what happened has left them hurt, but it has also left them hopeful.
"Most of all what their hope is and our hope is, is the boy would just give his life to the Lord, all this other stuff, it'll take care of itself," Jude said.
Howard and Luster are both charged with violating graves.
A woman's grave was unearthed after nearly 15 years.
Emily Howard died in November 2002, but on Saturday, Martin County Sheriff John Kirk said her grave was dug up all the way down to the coffin. Howard is buried in Stacy's Cemetery near Peter Cave Lake in Martin County. And her family said they are now left with questions.
"You hear stories back when you were a little boy of back years ago people would dig up people and rob graves, but now this is the first I've ever seen it, that's why it was unreal for us to even fathom that somebody would even do it," said George Jude, Emily Howard's Grandson-In-Law.
Sunday, Jude said a teenager who was fishing nearby to visit his aunt's grave, discovered the unearthed grave.
"The whole family's talked it over and we couldn't figure the reason why somebody would even want to dig somebody up like that," Jude said.
Jude contacted Sheriff Kirk and they came out Sunday night to investigate.
"When we got here they had definitely dug the grave up until the top of the vault and everything was exposed," said Sheriff John Kirk, Martin County Sheriff's Office.
While Emily Howard was known to have worn a lot of jewelry during her life, none was inside her casket. Jude said all that was inside was a porcelain doll and a couple pictures.
Jude said, "The family just wants closure, why that they've done it or who would've even done it."
Sheriff Kirk also said he encourages everyone to go check on their loved one's graves to see if any other graves have been disturbed.
If they have been disturbed or if you have any information about this incident call the Martin County Sheriff's Office at (606) 298-2828.