Study: Life expectancy in much of Eastern Kentucky below state average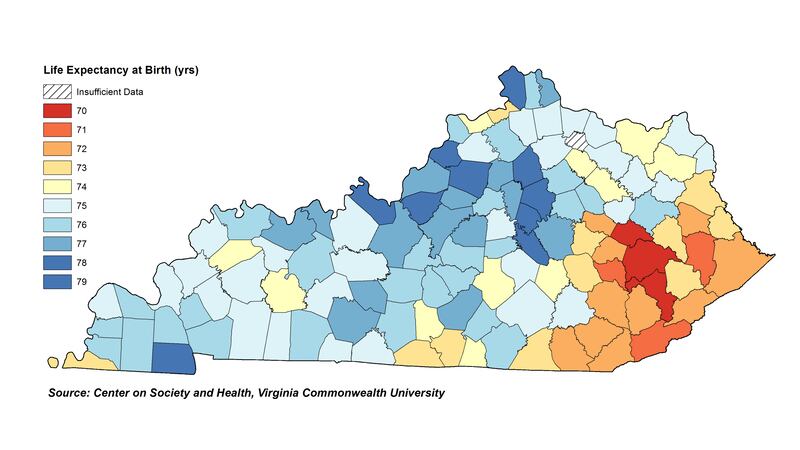 Published: Jun. 7, 2016 at 5:49 PM EDT
Where you live can affect how long you live.
Data compiled by researchers at Virginia Commonwealth University and the Robert Wood Johnson Foundation suggest Eastern Kentuckians live shorter lives than people living in the rest of the state.
Kentucky Health News reported on the findings, which show that people in Eastern Kentucky counties are expected to live up to nine fewer years than people in other parts of the Commonwealth.
The study found, for instance, that a child born today in Fayette County is expected to live 78 years, while a baby born in Wolfe County, just an hour down the road, is expected to only make it to 70.
"Too many people are not really aware of the situation, said Al Cross, Kentucky Health News' editor and publisher. "They probably know in a general way that Eastern Kentucky is not as healthy as other parts of the state, but they don't really see it quantified."
Dr. Fran Feltner directs UK's Center for Excellence in Rural Health in Hazard.
She says poverty, along with high rates of smoking, obesity and cancer in the mountains lead to diminished health outcomes.
"Heart disease is in many of our families," she said. "Heredity we can't change, but we can change the risk factors. We can improve the way we live."
Feltner says barriers to better health in Eastern Kentucky include poor food options and fewer places to excercise.
She says programs like Kentucky Homeplace have seen success, meeting people in their homes to improve healthcare access and education about issues like colon cancer.
"A lot of people didn't know about colon cancer screening. They didn't know how to access that screening. They didn't have the funding to access that screening, and community health workers were able to improve that," Feltner said.
Making sure you see a doctor on a regular basis to recieve preventative care, Feltner says, is one of the most important steps you can take to live a longer, healthier life.
The Robert Wood Johnson Foundation compiled county by county rankings for Kentucky in terms of health outcomes and factors, which can be found at http://www.countyhealthrankings.org/app/kentucky/2016/overview.
Kentucky Health News is an independent news service of the Institute for Rural Journalism and Community Issues, based in the School of Journalism and Media at the University of Kentucky, with support from the Foundation for a Healthy Kentucky.