Sixth grader makes proposal for easier recycling in Hazard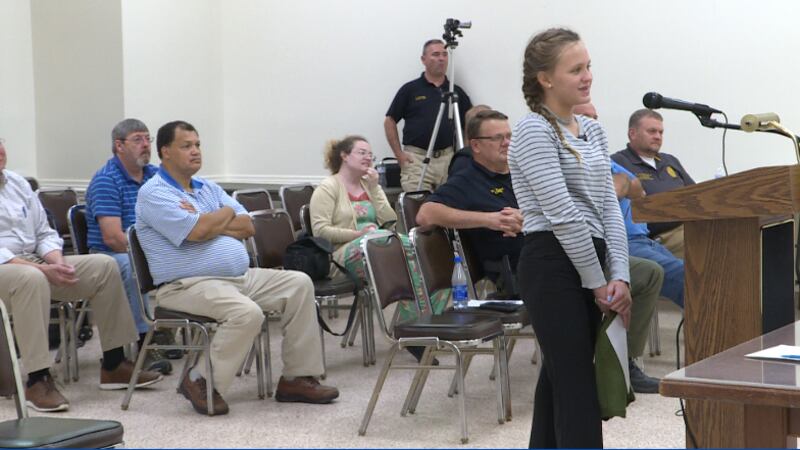 Published: Sep. 17, 2019 at 12:18 AM EDT
Monday night the City of Hazard held their weekly commissioner meeting. A proposal for curbside recyclable pickup and green kayaking was presented from someone unexpected.
A sixth-grader from Hazard Middle School, Carley Watts.
"Mayors and commissioners, I want to thank each and every one of you for giving me this opportunity to speak. Today I want to speak to you about two issues. Curbside recyclable pickup and green kayaking," said Carley Watts.
"I discovered the failure to recycle is a great big problem around our world and in Kentucky. Did you know you are eating the equivalent to one credit card each week in plastic that is not being recycled?"
Watts first brought this concern to her mother, Jessica. "She has always been interested in government and making a difference. And when she came to me complaining that the city did not offer curbside recycling. I said first, you do your part," said Watts. They began to recycle as a family, but Carley was not satisfied with the results.
"It shocked me at how much plastic hurts the environment here. It is just a really important part of me and I wanted to see what the city thinks about that," said Carley. So she gathered her data and went to her teacher, Luke Glaser, who is also a City Commissioner.
"I have been part of the on the commission for three years now and that is the first time we have had a young member take the initiative to come herself and give us that proposal," said Glaser. Glaser says Carley came to him with the idea. They then sat down, working out the details.
"I did not practice with her, she came and did that all by herself tonight. It was just an awesome opportunity to instead of doing something for a student. Helping them and empowering them to take the initiative and learn a little bit about how local government works," said Glaser.
This proposal would not only create jobs in Perry County but would also beautify the county while reducing waste.
Her second proposal was for green kayaking.
Officials with Perry County kayaking would provide plastic bags for riders to pick up trash along their ride. Riders would get a small refund if they returned the bag with trash.
Bailey Richards, Hazard Downtown Coordinator, agreed right away that this was a good idea. " I run the kayaks and yeah done. That is awesome. I love that idea. We will go ahead and start working on that, " said Richards.
With the immediate response to Carley's ideas, her mother could not help but be proud. "She was bold and brave and to be in 6th grade I was very impressed."
Showing everyone that you can take matters in your own hands, and age is only a number.