Proposed Medicaid overhaul meets opposition at Hazard forum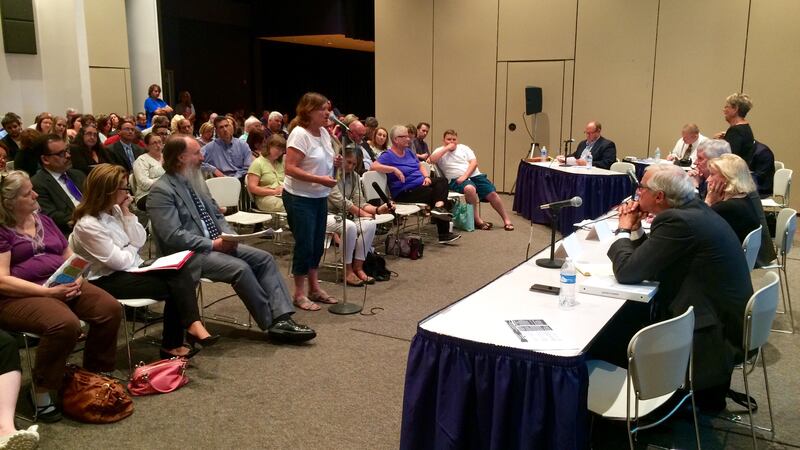 Published: Jul. 6, 2016 at 5:25 PM EDT
About 30 people spoke in opposition to proposed changed to Medicaid in Kentucky at a hearing Wednesday on the campus of Hazard Community and Technical College.
Governor Matt Bevin wants the federal government to allow modifications to the Medicaid expansion enacted by his predecessor Steve Beshear.
If the waiver is approved, the roughly 440,000 new Medicaid recipients could lose their coverage, which some say will have unintended consequences.
"As a mother of a 7-year-old, I know that if I can't take care of myself, I don't do a very good job taking care of my daughter," Adrienne Bush said.
State health officials say the Medicaid expansion will cost Kentucky $1.2 billion over the next five years, something the Commonwealth cannot afford.
"In spite of the fact that we have actually spent a lot of money on Medicaid and we have over a third of our population enrolled in Medicaid, but we're not seeing that needle move. We're not seeing an improvement in healthcare outcomes," Heath and Family Services Secretary Vickie Yates Brown Glisson said.
The plan would require "able-bodied adults" to pay monthly premiums of $1 to $15, and co-payments if recipients fail to keep up with payments.
Opponents say those ideas have been tried elsewhere.
"Rather than increasing well-being, they're shown to reduce coverage and drive more people into deep poverty," Kentucky Center for Economic Policy Executive Director Jason Bailey said.
Many also took issue with part of the plan that drops vision and dental benefits unless Medicaid patients take part in a public service-based rewards program.
"What a mistake," Big Sandy Aging Council Chair John Rosenberg said. "So many health issues are the result of a failure to have dental care, and conversely so many health-related problems are recognized for the first time by the person's dentist."
The 30-day period for public comment on the governor's plan continues through July 22.
To submit comments,
.