Black Lives Matter movement stretches to Harlan County as peaceful protests continue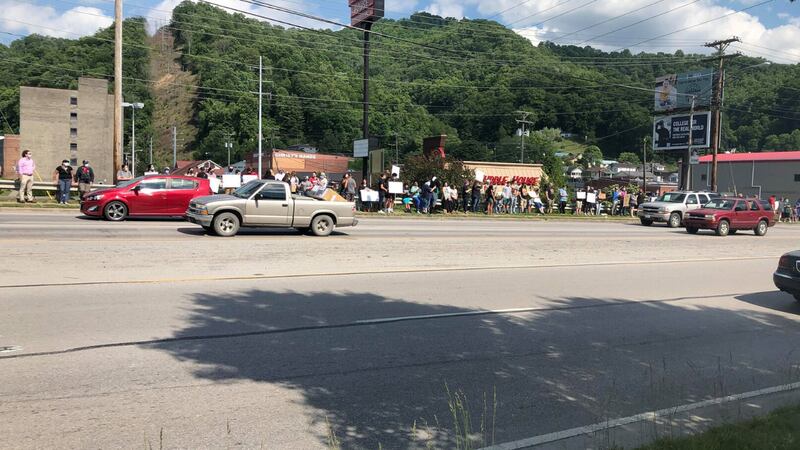 Published: Jun. 2, 2020 at 4:56 PM EDT
On Tuesday, people gathered in Harlan County to peacefully protest in support of the Black Lives Matter Movement.
A group of more than 100 people held signs and chanted as cars passed by along U.S. 421.
"We care, we see you, we see what's going on and we're not going to ignore," said Bree Carr the event organizer.
Carr put the event on despite receiving some backlash on social media.
"Deep within rural Appalachia, especially in southeastern Kentucky, people look upon us like we ignore issues that are happening and like we're uneducated especially in things that are political like this is, and my idea was to show people of color who are struggling right now all over the country that there are people in this rural place that are allies, that care, that want to give other people here the other community here a platform to speak on," said Carr.
While the put out a flyer Carr also did recruiting of her own, even approaching some people in Walmart.
"I love it, I love it honestly, It's crazy how many people came out I didn't expect this many people, just the support, it's nice," said Tyler Baker and Akime Sanderson.
Some signs read 'Black Lives Matter' others had names of blacks killed recently written on them.
Handing out signs to support the cause was Jonathan Bailey.
"Honestly I'm just sick of seeing human beings being murdered for no reason, it's getting old," said Bailey.
While Bailey is given hope that this movement will gain traction, he is still filled with sadness that these events have to happen.
"I want peace, I don't want no more murders, I don't want anybody else hurt," said Bailey.
Monday's protest came on the heels of protests across America and in Pikeville and Paintsville Monday night.
The ones in Eastern Kentucky have all stayed peaceful.