Magoffin County resident recounts seeking safety during historic tornado outbreak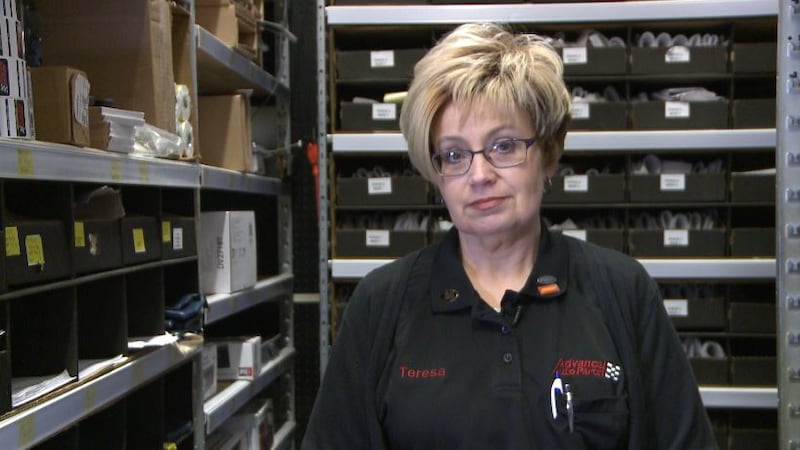 Published: Mar. 1, 2017 at 10:14 PM EST
The Advanced Auto Parts store on the Mountain Parkway in Magoffin County may look like any other store, but for Teresa Poe it is more than that.
"After the store had been rebuilt and we started restocking it, I had a really tough time coming in," said Poe.
Five years ago, the Advanced Auto Parts that once stood in Magoffin County looked much different.
The building was destroyed after an EF-3 tornado ripped through it. Miraculously, Teresa was inside the building at the time, but managed to escape after the disaster.
Teresa and a former coworker were keeping watch on the storms from inside the building when they caught word of how bad it was going to be.
"We had a city police officer go through the parking lot and told us 'if you're going to stay here, you need to take cover as soon as possible,'" she said.
Their safe place... a bathroom.
"And we started hearing it. It was just like... I... I don't know how to describe it. It was indescribable," she said. "The only thing left standing was the bathroom where we were at. And all I can say is the good Lord was watching over us."
It wasn't even until the next day when she realized what happened.
"It was dark then. When you saw it in daylight... I mean it was everywhere. Nothing on this road out here was still intact. I mean it was destroyed." Now, you almost have to know to look for signs of damage along the Parkway.
Even though Teresa struggled with returning to work initially, she overcame those painful memories like so many others.
"Yeah, the first year ... it was very hard. I mean I told my boss at the time, I said 'I can't come back to work here.' But I did and I'm proud of it."