Libertarian Party celebrates causing 'delicious tears from Bevin supporters'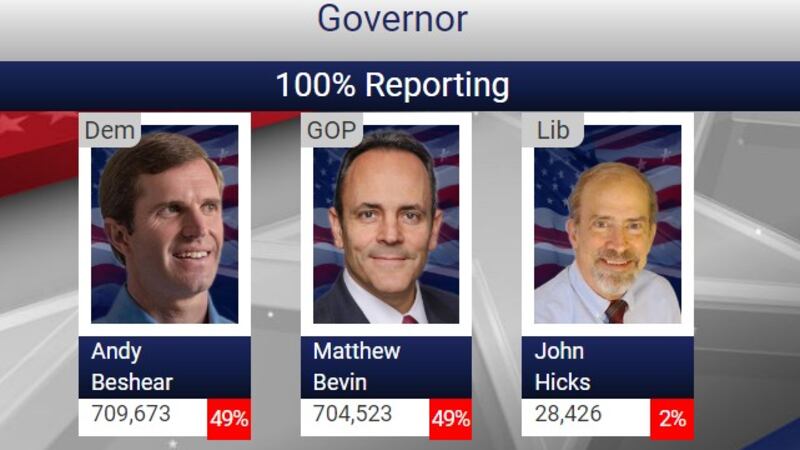 Published: Nov. 6, 2019 at 6:54 AM EST
With the
and Andy Beshear still claiming victory and
, not many are thinking about the Libertarian candidate whose name was on the ballot.
Libertarian candidate John Hicks received only 2 percent of the vote in the governor's race, while incumbent Republican Governor Matt Bevin and Democratic challenger Andy Beshear both got 49 percent of the vote.
However, the Libertarian Party of Kentucky still expressed satisfaction with the role they played in Tuesday's results.
The party had strong words for Bevin after Beshear won by a .3 percent margin. Hicks received 28,426 votes. That is far more than the approximately 5,000-vote difference between Democrat Andy Beshear and Republican Matt Bevin.
In a post on The Libertarian Party of Kentucky Facebook page Tuesday night, the party stated, "We are always happy to split the vote in a way that causes delicious tears. Tonight there are plenty of delicious tears from Bevin supporters."
The party claims that Governor Bevin's choice of running mate and several other stances on pivotal issues affected its decision to run its own candidate.
In a later Facebook post, the Libertarian Party of Kentucky admitted that maybe Hicks did not cost Bevin the election, but that the incumbent did that all on his own.