Two people taken to hospital after rockslide causes Pike County train derailment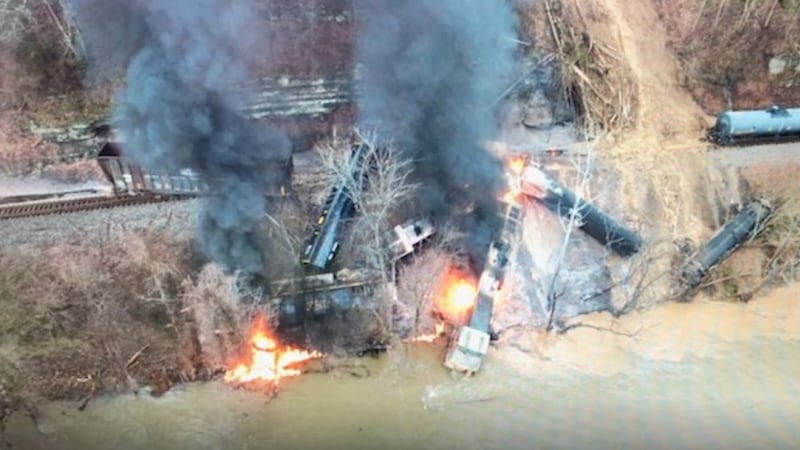 Published: Feb. 13, 2020 at 7:28 AM EST
CSX officials released an updated statement regarding the train derailment in Draffin:
Both CSX and the National Transportation Safety Board are investigating the incident. It's a scene that officials have seldom seen before.
"We got a 911 call of a train derailment just above the Draffin bridge, which is where we're standing here, and the engines were on fire," said an emergency official. "Where the fire was at the time near the derailment, because of the where the fire was, in case of explosion."
Officials had to evacuate nearby communities and worked quickly to get the train engineers out and move them to safety. The CSX workers are in the hospital with non-life threatening injuries.
All that is left is the cleanup. CSX is deploying environmental monitoring measures to minimize impacts. The Kentucky Energy and Environment Cabinet has a team sampling the water to make sure it is safe to drink.
One man who saw the whole thing unfold said he felt helpless.
"The train horn, you know, woke me up a little bit and then it sounded like a tornado was ripping through. Just a real loud rumbling," said Austin Cox.
He said he saw an orange glow and when he got to his backyard, he already knew what he was looking at.
"The flames were 50-60 feet in the air. It's gut-wrenching to see," said Cox.
Cox called 911, convinced that the operators of the train were dead.
"Who survives a train crash into the river, hitting a mudslide of that size? And then you survive the fire too and walk away from it?" Cox wondered. "They started asking for help. And you knew they was, they was both alive. I guess you were kind of relieved, but at the same time, it makes you feel even worse. Cause now you do know they are over there in that heat."
All he could do was stand and watch, yelling to the men that help was on the way, as he saw the flames growing higher and higher.
"Their time was running out quick," Cox realized.
Relieved, he watched as local rescue crews loaded them onto a boat and took them to safety.
"It's a blessing they did that. The Lord was sure looking over them today," Cox said.
We are told that Red Cross provided dinner for the rescue crews Thursday evening.
Community members say a derailed train in Pike County Thursday morning is something they will never forget.
It was a startling wakeup for the Draffin community. Witnesses said the sound echoed through the area, bringing people to their windows to see the smoke and fire.
"It's just less than a mile within my house. We really didn't realize what was happening," said one neighbor. "They won't talk a whole lot about it."
Emergency response vehicles lined U.S. 460, leaving many in the area unsure of what was happening. Community members eventually learned that it was caused by a mudslide, and said it was a miracle that no one was seriously hurt.
"As far as us, as the neighborhood, we're just trying to help out all we can. You know, see what we can do to offer, but from what we can see they've got plenty of help," the neighbor said.
One neighbor said she has lived here for years and this is the second time she has seen a train derail in this community. The first time was many years ago, and it was also caused by weather and moving mountainside.
Emergency officials quickly worked together to put out the fire and save the two CSX employees onboard the train.
"None of the cars went into the river. There was a locomotive that went in and two others derailed behind it. There was two ethanol cars involved in the fire that were breached in the derailment. They have pretty much since burnt out," said one emergency official.
Some diesel fuel did get into the river but it could have been much worse.
"First responders get out of bed to come do this type of thing at that time of morning," an emergency official said. "It's a pretty fast response for volunteers and I'm proud of what they were able to accomplish."
Two water districts, Mountain Water District and the City of Pikeville, are affected but both have crews on scene to control the impact. Smoke is still billowing into the mountain air as the rest of the spilled diesel burns off. A long cleanup process now begins.
We learned what caused the train derailment in Pike County Thursday morning.
Kentucky State Police Trooper William Petry said a slip on the mountain near the train tracks caused the derailment.
We are told there are several hundred yards of mud and rocks on the tracks.
Petry said the engine derailed first and the tanker cars carrying ethanol followed. The diesel fuel is what is currently burning. The fire at the site is contained.
Some diesel made it into the river. Officials said it is too wide to use boons to contain the diesel. Right now, the Mountain Water District shut off its water intake, and Pikeville Water District is preparing to take appropriate action if needed. Officials said the water should only be off for the day.
People in a nearby neighborhood were evacuated as a precaution but are now allowed to return to their homes. People in the area are asked to be careful because crews are still working and there is limited parking and the roadways are narrow.
The National Transportation Board and CSX Police have taken over the investigation. CSX released the following statement:
Officials confirm two CSX employees have been taken to the hospital following the Thursday morning derailment in the Ratliff Bottom/Draffin area of Pike County.
In a post from the Kentucky Transportation Cabinet District 12 Facebook page, Pike County Emergency Management Director Doug Tackett said the employees were in "pretty good shape".
The post also states the train was carrying tanker cars filled with ethanol which, among other things, is used in the process of making gasoline.
People have been evacuated from the area as a precaution.
Tackett says while the chemicals are considered a flammable hazardous material, there is no evidence of danger at the moment.
Kentucky State Police confirms they are currently working a train derailment outside of Elkhorn City.
KSP dispatchers could not give any other information other than troopers are on their way to the scene.
Pike County Emergency Management Director Doug Tackett confirms the train was carrying ethanol.
Tackett says diesel fuel did spill and caught on fire.
There is no danger for homes or people living near the trail derailment.
A viewer messaged WYMT saying it is in between Ferrells Creek and Marrowbone off of 460.
Kentucky Transportation Cabinet District 12 says the engines are on fire.
A water rescue has been requested as two people are trapped.
We have a reporter on the way.