Jenny Wiley State Resort Park receives $1.8 million for improvements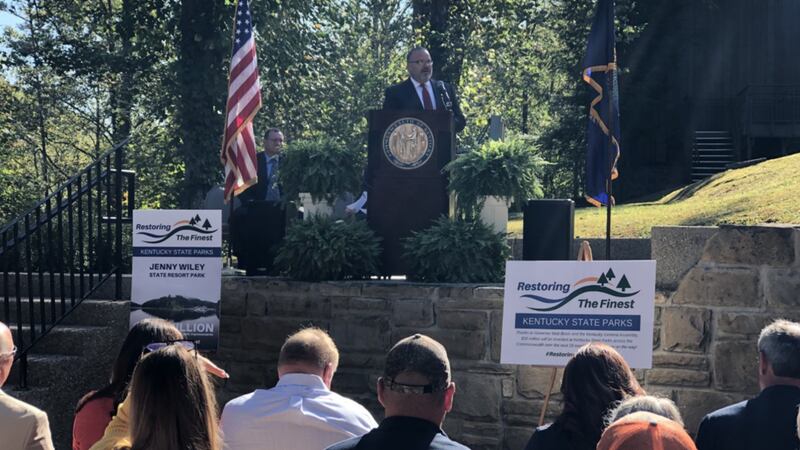 Published: Oct. 10, 2019 at 11:43 AM EDT
Jenny Wiley State Resort Park received $1.8 million dollars for planned improvements to the park.
The funding was announced Thursday as part of Kentucky's "Restoring the Finest" initiative for state parks.
With the funding, Jenny Wiley State Resort Park will receive a new lodge roof, exterior repairs, a new roof for the park's conference center and renovations of all lodge rooms, which includes new furniture and decor.
Kentucky's Tourism Arts and Heritage Secretary Don Parkinson was on hand for the announcement.
"Projects like the ones at Jenny Wile are critical for our state parks to keep our guests and employees safe," Parkinson said, adding "We appreciate the support our parks receive from Gov. Matt Bevin and members of the General Assembly."
Prestonsburg Mayor Les Stapleton said the new funds will help the park improve its mission of being a tourist destination.
"We just got to get a bigger bite from across the state. Bringin' people where we're at. We've got things to do; we've got beautiful places. We've just got to get them here to see it," Stapleton said.
Floyd County Judge-Executive Robert Williams agreed.
"This announcement's huge for Floyd County, We have something that most communities in the state don't have. I think, sometimes, we take it for granted."
Parkinson said he sees the beauty of the area and the state will "take advantage" of that by making it even better. He said the potential for expanding the campgrounds in the future is also on the state's radar.
Since 2016, Jenny Wiley State Resort Park has received nearly $2.1 million dollars in improvements from the Bevin Administration.
The state park has a lodge, restaurant, cottages, marina and campground.
It offers recreational activities such as elk tours, hiking, swimming, boating and fishing.