'It's a race': Hundreds of new jobs coming to Floyd County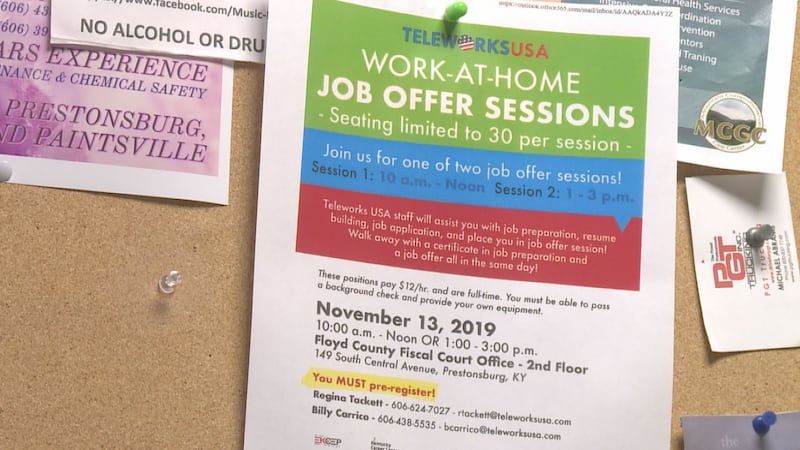 Published: Oct. 29, 2019 at 12:59 PM EDT
Just weeks after state and local leaders announced the prison in Wheelright will reopen, bringing along hundreds of jobs, officials with the Floyd County Fiscal Court announced even more jobs coming to the area.
Floyd County Judge-Executive Robbie Williams announced the fiscal court teamed up with Teleworks USA to bring 300 jobs to the county.
The jobs pay $12 an hour and after a trial period offers health insurance, retirement and paid vacation.
"This is an excellent opportunity for Floyd County and Eastern Kentucky. The ability to work from home while earning a good salary and benefits will mean a lot to hardworking folks in our county," Williams said.
Williams said the jobs are a blessing to the county and the region as a whole. More than 600 people have applied for the prison jobs since the announcement was made earlier this month. Now, with 300 work-from-home positions on the table, Williams said he is hopeful for the future.
"It's a race. You know, I'm really pressing hard right now," Williams said. "My concern is, once the workforce leaves they're not coming back. We have to keep those folks here now."
You do not have to live in Floyd County to apply for the open positions.
A job fair for the Teleworks positions will be held at the Floyd County Fiscal Courtroom Nov. 13 from 10 a.m. until noon followed by another one from 1 p.m. until 3 p.m.
For questions, call 1-606-886-9193.