Hazard High School students participate in Arlington National Cemetery ceremony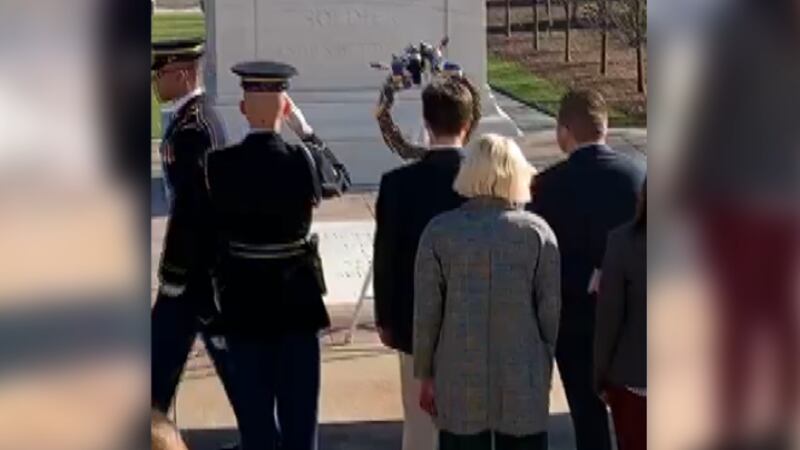 Published: Nov. 26, 2019 at 1:26 PM EST
Students at Hazard High School take a school trip to New York and Washington D.C. their junior year.
One of the highlights of the trip is laying the wreath at the Arlington National Cemetery during a ceremony at the Tomb of the Unknown Soldier.
Luke Glaser, a teacher at the school, says it is an experience they can not experience through a textbook.
"It's one thing to watch a video of the change of the guard at the Tomb of the Unknown Soldier and another to be there completely silent with your hand over your heart as they play taps. It's just kind of eery is not the right word but a profound feeling," said Glaser. "It's most of these kids it's their first time doing something like that. So it's really neat to kind of get them out of the Hazard bubble for a little bit."
Justin Witt, a student at Hazard High School, got to lay the wreath during the ceremony.
"Honestly a pretty surreal experience it was just an honor and I was really proud to do a little thing for my country," said Witt. "I feel like this trip gave me a better perspective of history and the importance of it. They gave me it showed me a better light to history then just reading from a dusty book from the cabinet. "
Glaser saying he hopes student take away one thing.
"At least as we leave Washington that there's a better understanding of what it means to be a citizen. What sacrifices have been made so they have the privileges like being able to exercise religion, being able to have a public education, being able to speak freely. You know there's a lot that went into making that happen and walking through these tombstones hear you get to kind of see how much that cost."
Witt says he is walking off those sacred grounds with a new experience and a new understanding.
"A better respect for veterans and for people that are still in the army and other parts of the military. Overall just proud to be an American."
The Arlington National Cemetery is just one of the stops on the trip. Others include the White House, Lincoln Memorial and the Holocaust Museum just to name a few.