EPA's Pruitt pledges to pull from clean power plan while in Hazard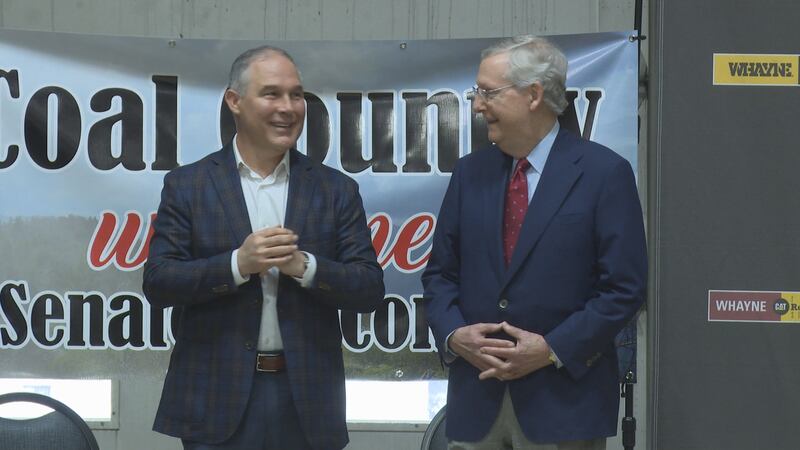 Published: Oct. 9, 2017 at 10:49 AM EDT
EPA Administrator Scott Pruitt says the Trump administration will abandon the Obama-era clean power plan aimed at reducing global warming.
Speaking in Kentucky on Monday, Pruitt said he will sign a proposed rule on Tuesday "to withdraw the so-called clean power plan of the past administration."
The announcment followed up the current administrations promise during the 2016 presidential campaign to end the "war on coal."
"The war on coal is over," said Both EPA Administrator Scott Pruitt and Senate Majority Leader Mitch McConnell.
McConnell during an exclusive interview with WYMT's Steve Hensley said this wont necessarily create jobs but hopes to curb the loss.
What I hope happens is more coal fired plants wont shut down and that will at least give us some hope for the future," said McConnell.
The clean power plan aimed to restrict greenhouse gas emissions from coal-fired power plants. It was a centerpiece of the Obama administration's environmental policies.
The announcement was met with applause from the crowd inside Whayne Equipment.
State lawmakers are satisfied with Monday's announcement and meet it with optimism about putting Eastern Kentuckians back to work.
"It's a hopeful feeling. A little bittersweet because we're standing in a building that's lost jobs that I feel like they've created that job loss. Now we're hearing everything we've wanted to hear and hopefully, that will encourage people to get to work and let us do what we know we're good at doing now that we've got a little help especially with the announcement of what they're signing tomorrow for us," said Brandon Smith Kentucky State Senator for the 30th district.
Hope and optimism a theme on the day as Senator Smith says the announcement brought mixed amotions from the crowd.
"Honestly its ranged from having a woman cry because her son and husband were laid off and he's a trained diesel mechanic and those don't come by everyday to people jubilant," said Smith.
The Environmental Protection Agency is expected to declare the Obama-era rule exceeded federal law by setting emissions standards that power plants could not reasonably meet.
Pruitt said the EPA should not use its authority "to say to you we are going to declare war on any sector of our economy."
Environmental groups and public health advocates quickly derided the decision as short-sighted.
"Trump is not just ignoring the deadly cost of pollution, he's ignoring the clean energy deployment that is rapidly creating jobs across the country," said Michael Brune, the executive director of the Sierra Club.