Christmas comes early for kids in annual 'Shop with a Trooper' event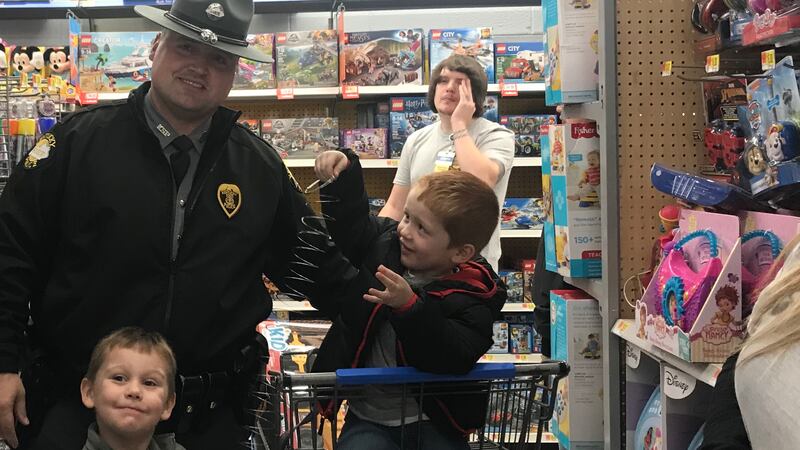 Published: Dec. 7, 2018 at 2:54 PM EST
Christmas came early for about 80 kids in Breathitt, Knott, Leslie, Letcher and Perry counties Friday. Troopers and organizers with Kentucky State Police Post 13 held their annual 'Shop with a Trooper' event at the Whitesburg Walmart.
"It's a satisfaction that it's really hard to put into words," said Trooper Jody Sims. "It's another opportunity for Kentucky State Police to reach out to children especially, but to reach out to the community in a positive way."
Sims has been part of this event for years, he says this year kids got to spend about $120 each on clothes and toys.
"This means a lot to me because we got three more children in our life," said Kimberly Patton. "Our kids had a blast."
When Kimberly Patton says "three more children" she's referring to Summer, Braxton and Christopher. The three had their mother died in a fatal car crash earlier this year.
Patton says Christmas would have been hard this year if it was not for the 'Shop with a Trooper' program. She says days like Friday help the family heal, and the kids love getting new toys.
"The Mickey, Mickey Mouse definitely for her [Summer], Christopher got a big fire truck and Braxton just went wild over all of them," Patton said laughing.
In total, all three of her kids were able to spend close to $500 in toys and clothes.
"These kids can touch your heart and give you a sense of hope for the future in their kindness and their thoughts of others," said Sims. "Again, it's an immense joy."
At the end of the day, everyone who participates leaves with full hearts and shopping carts.