Camp UNITE kicks off 13th year of camp with over 200 kids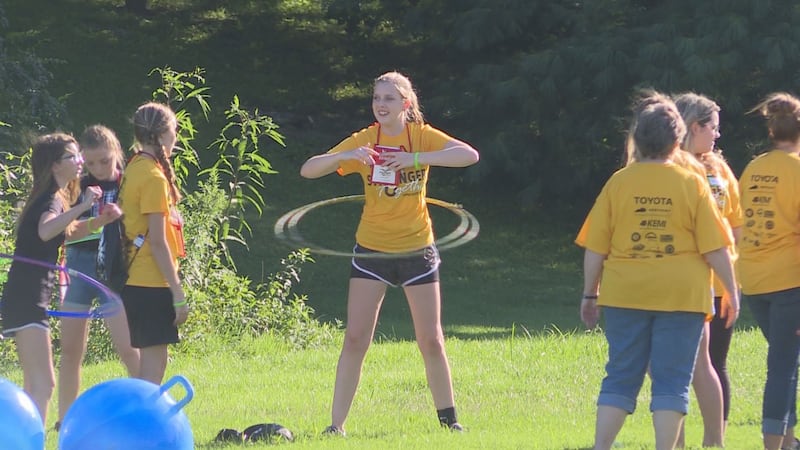 Published: Jul. 23, 2019 at 11:38 PM EDT
Camp UNITE kicked off their 13th year of camp on Tuesday.
The camp is part of Operation UNITE which serves 32 counties in Eastern and Southern Kentucky. It helps fight and prevent substance abuse.
The campers who attend are in 6th, 7th and 8th grades.
They participate in many activity classes, games, speaker sessions and volunteer work.
Nathan Gentry has been a part of Camp UNITE for 11 years.
"I was very shy when I was, very shy and camp really helped me get over that and make friends, and that is what inspired me to be a team leader," said Gentry.
He came as a camper from a broken home, and now he wants to support other kids in his situation.
"I wanted to make sure they know that they aren't alone cause I went through it too," said Gentry.
This year Camp UNITE brought Anne Hazlett, who is the senior adviser for rural affairs at the Office of National Drug Control Policy at the White House.
"The camp here is a success that I wanted to come and see first hand, so we can help other similarly situated communities be able to do something similar," said Hazlett.
She sees it is helping raise the next generation of healthy children.
"It begins with just letting them be kids and have fun and share life experiences and learn new things and just develop confidence in who they are," said Hazlett.
The kids are taking what they learn from camp back to the classroom.
"Many of them go back to their schools and become involved in their UNITE clubs, and so suddenly they realize I do have a voice, maybe I am just a seventh-grader, but I have a voice and I can share with my community how important it is for us to be drug free," said Nancy Hale, the president and CEO of Operation UNITE.
Their theme this year is "Stronger Together".
The camp will end on Friday.