3rd Annual Women's March continues despite rainy forecast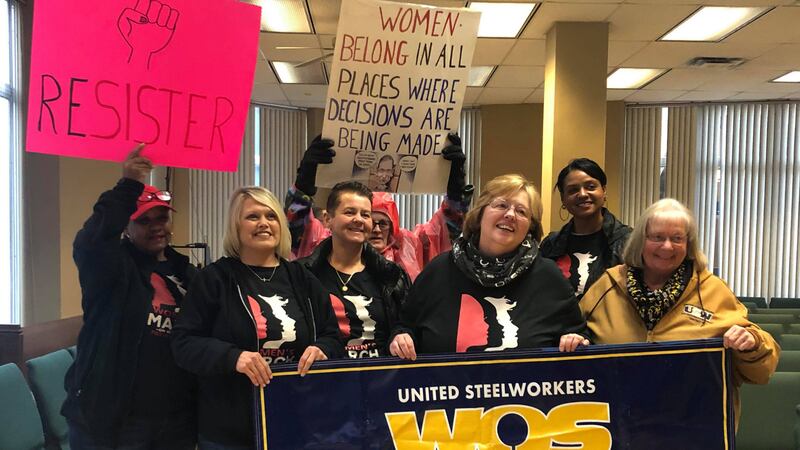 Published: Jan. 19, 2019 at 6:07 PM EST
Following a wave of women taking office in Congress, and around the country, activists are at the nation's capital this weekend for the next stage of their movement.
In recent months, allegations swirled against some of the event's founding members of ties to antisemitism.
Thousands still came out to this year's march in Washington D.C. and sister marches across the United States.
One of those sister marches took place right here in Eastern Kentucky.
Saturday's rainy weather did not stop marchers in Pikeville.
Many braved the grim weather to make their voices heard.
Raised in a strong union household, Gypsy Cantrell-Ratliff learned many things.
"My mother was not an educated woman, book-wise. But she was a very smart woman," said Cantrell-Ratliff.
She told WYMT, she always looked up to her father and wanted to be just like him.
"I said, dad when I grow up, I'm going to work on construction. I'm going to be a union girl, and I'm going to be a Democrat," recalled Cantrell-Ratliff. "He told me I could be a Democrat but I would have to figure out something other else to do that women didn't do that," she continued.
From that day forward, she says that conversation lit a fire in her heart to stand up for not only herself but women all over.
"It's important for women to lift other women up. If you lift one woman up, you lift all women up," Cantrell-Ratliff said confidently.
Three years ago, while women marched in Washington D.C., she planned a march for Eastern Kentucky.
"That's why I do this. So women can know that they do count," pointed out Cantrell-Ratliff.
Despite the rain, she and many others marched the streets of downtown Pikeville.
"Women's equality really means equality for everybody," said Dave Sykes.
Sykes is one of the few men who marched along with the women.
"If we're not all equal, then nobody is free," Sykes pointed out.
He told WYMT, more men should participate in empowering events like this.
"We live with women. It's important they are free so everybody can be free," explained Sykes.
"I will stand up for other people's rights," said Cantrell-Ratliff.
Before the march, multiple speakers told stories of empowerment. Many talked about how far we have come in recent years, as well as the changes which they felt need to be made.
Angie Hatton with District 94 of the Kentucky House of Representatives is among the list of speakers who talked about the future of equality.
Appalachian Symphony played music during the event.
Organizers of the Women's March asked those attending to bring donations of feminine hygiene products and diapers. Those will be donated to the local homeless shelter.