System brings wind and needed rain to our region
Published: Nov. 21, 2023 at 2:23 AM EST
|
Updated: Nov. 21, 2023 at 7:45 AM EST
HAZARD, Ky. (WYMT) - It is going to be a nasty day to be outside, but this will be a welcome site for many folks who have been dealing with drought conditions and forest fires.
Today and Tonight
Today's forecast can be summed up in two words: Soggy and breezy, especially in the higher elevations. Rounds of heavy rain will move through the region all the way until lunchtime and they will continue in scattered form through the afternoon and evening hours. The wind will be stout, especially in areas above 2,000 feet where some locations could see gusts of up to 50 mph at times. Be extra careful out there through about noon when the Wind Advisory is supposed to expire, and pretty much all day, especially if you drive a high-profile vehicle. Take it easy on the roads because rain will lead to ponding and make it easier to hydroplane.
Highs will struggle to make it into the upper 50s later. Tonight, the front that caused all this mess will make its trek out of the region and you know what that means: A midnight high. Temperatures will drop into the mid-40s by Wednesday morning and top out around 50° for a daytime high just after midnight. Rain chances will continue in scattered form throughout the night.
Extended Forecast
After some clouds and shower chances early, the skies should start to clear a little later on, at least from the rain chances. The clouds might hang around for a bit before starting to clear Wednesday night. Temperatures should stabilize in the upper 40s following that midnight high and then fall into the mid-30s as skies clear overnight.
Thanksgiving Day looks pretty good with a mix of sun and clouds and highs in the low to mid-50s. Lows will drop into the mid to upper 30s overnight, so if you are planning on hitting the stores early on Black Friday, you will want to bundle up. The shopping holiday doesn't look too bad weather-wise either, with another mix of sun and clouds and highs in the mid-50s.
The long holiday weekend is kind of a half-and-half one with Saturday looking dry but cooler and rain chances returning late Sunday.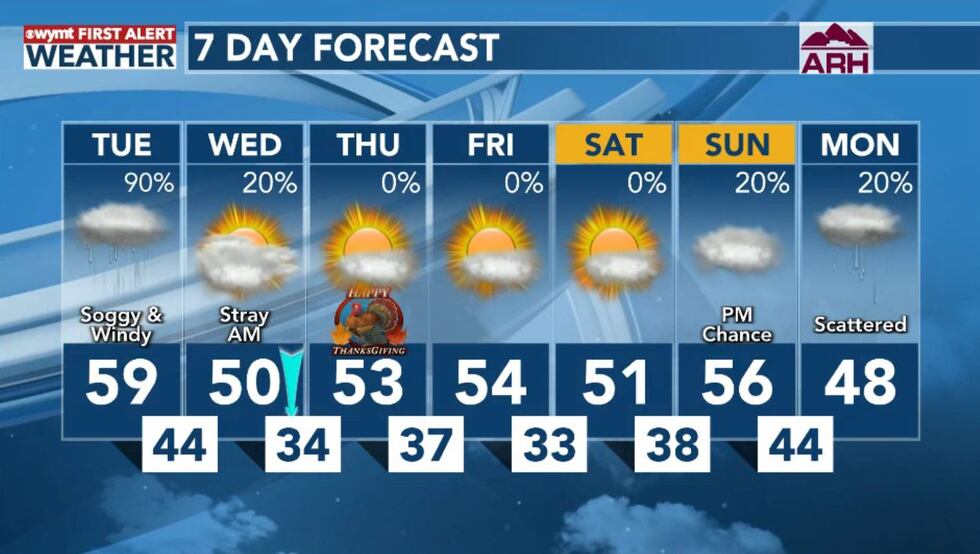 Copyright 2023 WYMT. All rights reserved.