Gov. Andy Beshear, KSP announce statewide 'Cram the Cruiser' food drive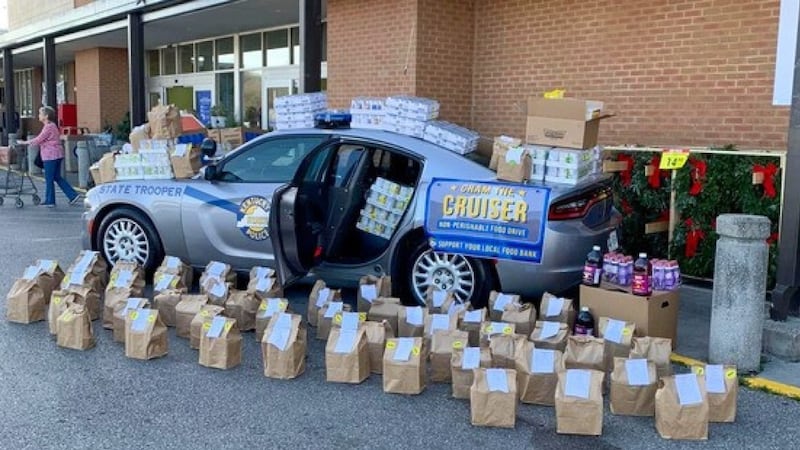 Published: Nov. 21, 2023 at 9:46 AM EST
FRANKFORT, Ky. (WYMT) - The annual statewide 'Cram the Cruiser' campaign is getting underway just in time for the holiday season
The partnership with Gov. Andy Beshear and Kentucky State Police launched on Tuesday.
The goal of the food drive is to help combat hunger in communities across the state.
The initiative is going on at all 16 KSP posts and will run from November 21st through December 4th.
During the event, troopers will be set up at various grocery and retail stores ready to accept donations of non-perishable food items. You can also drop them off at your local state police post.
"This event has a special place in our hearts. We are committed to serving the people of Kentucky in every way we can," said KSP Commissioner Phillip Burnett, Jr. in a news release. "With the holidays approaching, it becomes even more crucial to ensure that everyone has access to nutritious meals."
Kentucky State Police Post 13 Trooper Matt Gayheart said all of the food donated will stay local.
"All of the food that's donated in our region stays within our region. So, all the food we collect in Hazard will go to Hazard food pantries. Vice versa, it's the same thing for Whitesburg, Knott County, all of our drop off spots. The food will be kept locally," said Gayheart.
In 2022, KSP collected more than 218,000 pounds of food. To find specific locations and more details about the food drive, click here.
Copyright 2023 WYMT. All rights reserved.