Wayne County man arrested after threatening deputies with knife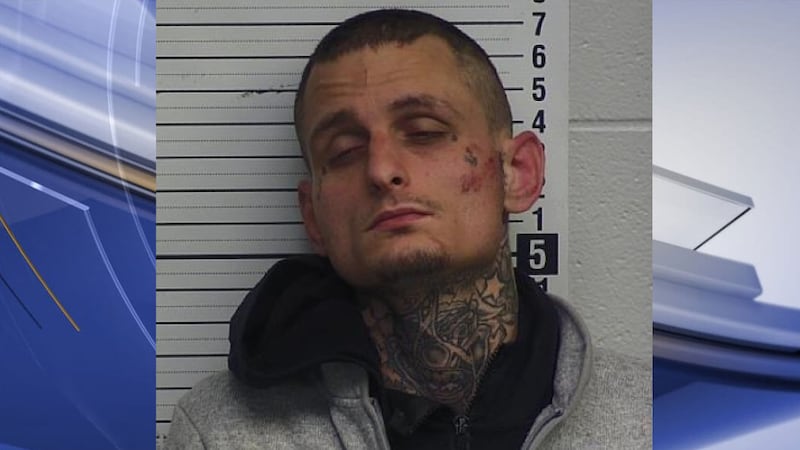 Published: Nov. 20, 2023 at 11:23 AM EST
WAYNE COUNTY, Ky. (WYMT) - One Monticello man is facing a host of charges after he reportedly threatened to harm deputies from the Wayne County Sheriff's Office with a pocketknife.
At approximately 7:38 p.m. Sunday, a traffic stop was executed on a vehicle due to the driver committing traffic violations in the Cumberland Crossing Shopping Center, investigators said. The deputy performing the stop reportedly knew the passenger in the vehicle had two active warrants out of Wayne County.
After the deputy told the passenger he was being arrested for the warrants and to exit the vehicle, he started to get out before sitting back down, saying he was not going to get out, deputies said.
As the deputy started to remove the passenger from the vehicle, he screamed he had a knife. Backup was called for shortly after. The man was told to drop his knife several times. When deputies held the man at gun point, he reportedly said "you all will have to kill me."
The passenger then went back inside the vehicle, locking the passenger side door, according to investigators. Then, the man left the vehicle through the driver's side door, where he was confronted, they said.
When the man continued to resist arrest, a deputy deployed his taser, resulting in the man falling to the ground, according to investigators.
After that series of events, a pocketknife was found where the man had been standing on the driver's side of the vehicle where he was tased, deputies said.
Cory Bard, 30, was arrested and charged with resisting arrest, menacing, four counts of wanton endangerment in the first degree (police officer), assault in the third degree (police or probation officer), and disorderly conduct in the second degree.
Bard was also taken into custody on two Wayne County District Court Warrants of Arrest for failure to appear in a preliminary hearing and failure to pay or show cause on the underlying charges of public intoxication-controlled substance (excluding alcohol), criminal mischief in the third degree, assault in the third degree (police or probation officer), resisting arrest, menacing, and non-payment of court costs, fees, or fines.
Bard was taken to the Wayne County Detention Center.
Copyright 2023 WYMT. All rights reserved.