Remembering Rosalynn Carter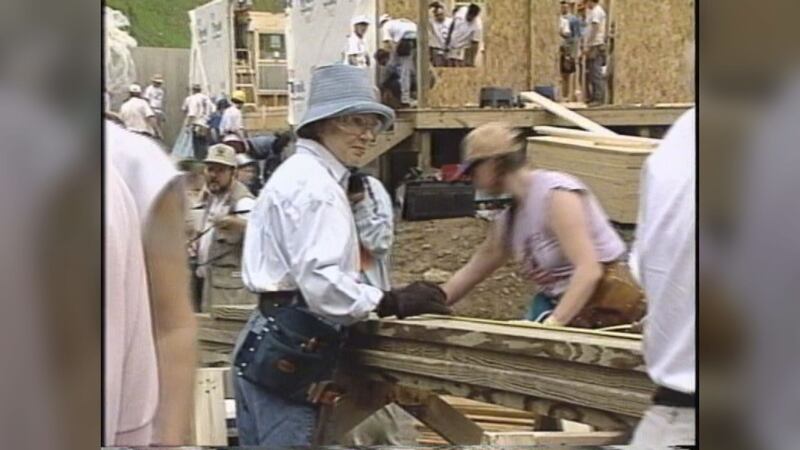 Published: Nov. 20, 2023 at 5:16 PM EST
LEXINGTON, Ky. (WKYT) - Former First Lady Rosalynn Carter passed away Sunday at her home in Plains, Ga., after a battle with dementia.
Her death comes just days after the Carter family announced she entered home hospice care.
The Carters spent decades in the post-presidential spotlight advocating for various causes, including Habitat for Humanity.
"She was so active in everything he did, and it's kind of like the hard work and brains behind the power...that was Rosalynn," said Lyle Hanna, the chair of Kentucky Habitat for Humanity.
Hanna met the Carters while in Hungary, where they brainstormed how to tackle Kentucky Habitat for Humanity's 1997 project in the eastern part of the state.
Former First Lady Carter was hands-on.
"We just took a white piece of paper and drew the state of Kentucky and drew the state of Tennessee and put stars where the towns were, and she was right in there, looking at stuff, helping with stuff," said Hanna.
Her level of involvement went beyond the planning process.
"She was carrying a toolbelt, carrying a hammer, helping to build these houses," said Hanna. "They always built a house with President Carter's team of people, his team, but my wife had this idea that she would do a first lady's house."
Former First Lady Carter helped in the construction of an entirely woman-made home.
"I think that that's one good thing about doing it with all women because it shows that women can do this kind of thing, and if women like to build, I think they should build as a profession," said Former First Lady Carter.
The working relationship Hanna and his wife had with the Carters extended into a friendship, allowing for a closer look at the public figure that millions knew of, but not nearly as many had the opportunity to get to know.
"Very quickly, she warmed up to people, and people warmed up to her, and she was just very special in that way," said Hanna.
A series of public and private events memorializing Former First Lady Carter will be held in Ga. before she is buried at the residence she shared with Former President Carter since 1961.
Copyright 2023 WKYT. All rights reserved.