2023-2024 WYMT Winter Weather Outlook
Published: Nov. 20, 2023 at 6:45 PM EST
HAZARD, Ky. (WYMT) - It is that time of the year when the air is starting to turn cold and the flakes could soon start to fly.
The WYMT First Alert Weather Team has worked all fall on the winter weather outlook for the 2023-2024 season.
You have probably heard terms like El Nino, La Nina, and polar vortex thrown around in the last few weeks or months.
Before we look ahead, let's look back at how we did last year.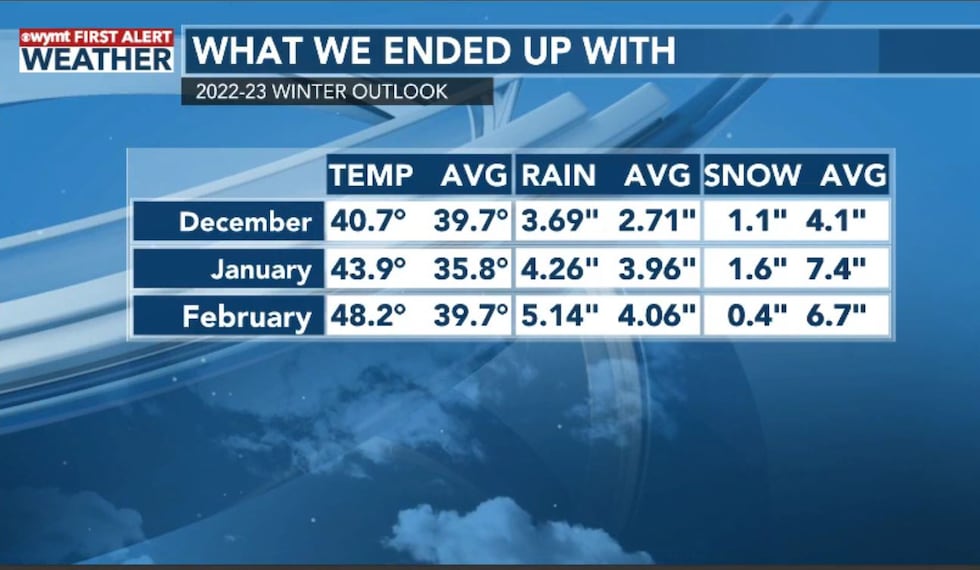 When it came to temperature, the only month we missed was January. For reference, last year's outlook for temperatures was above for December, below for January, and above for February.
For precipitation, we went above all three months and just missed it in December.
Last year was one of the biggest snow droughts we have seen in the mountains, with only about 3″ of snow ALL three months. Our forecast for 2022-2023 was below average in December and February and above average in January. So, we were good to start and end the season!
One of the things we look at is the National Oceanic and Atmospheric Administration, or NOAA, winter weather outlook. They released that in October.
Forecasters believe the dominant weather feature will be an El Nino pattern for the first time in four years.
From December through February, NOAA predicts above-average temperatures for much of the Northern US, with near-average temperatures for the Southern Rockies and Southern Plains.
In our region, we are showing between 33% and 40% above average based on NOAA estimates.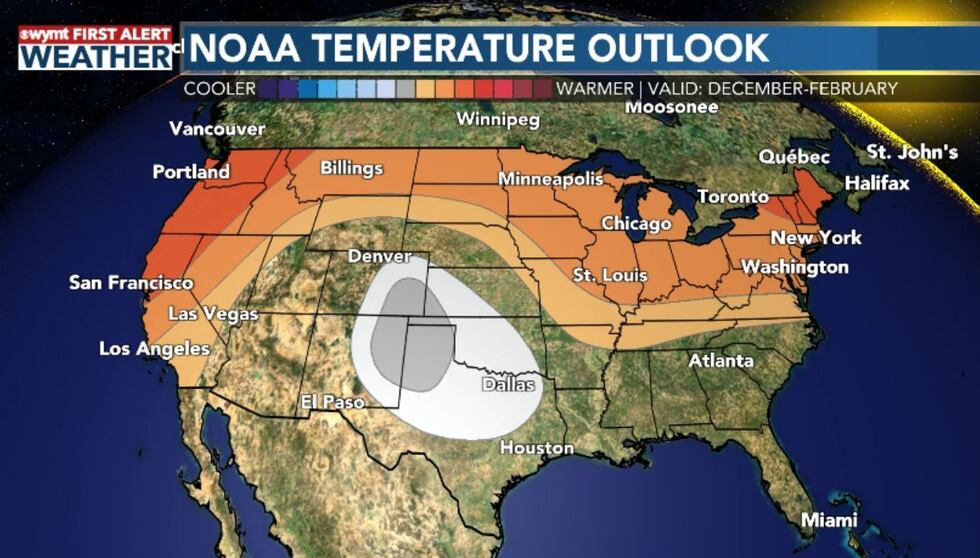 The precipitation forecast paints a different picture. NOAA is forecasting wetter-than-normal conditions for much of the southern states and drier-than-normal weather near the Great Lakes and into the Northern Rockies.
For our region, NOAA is showing equal chances for a wetter-than-normal and a drier-than-normal season.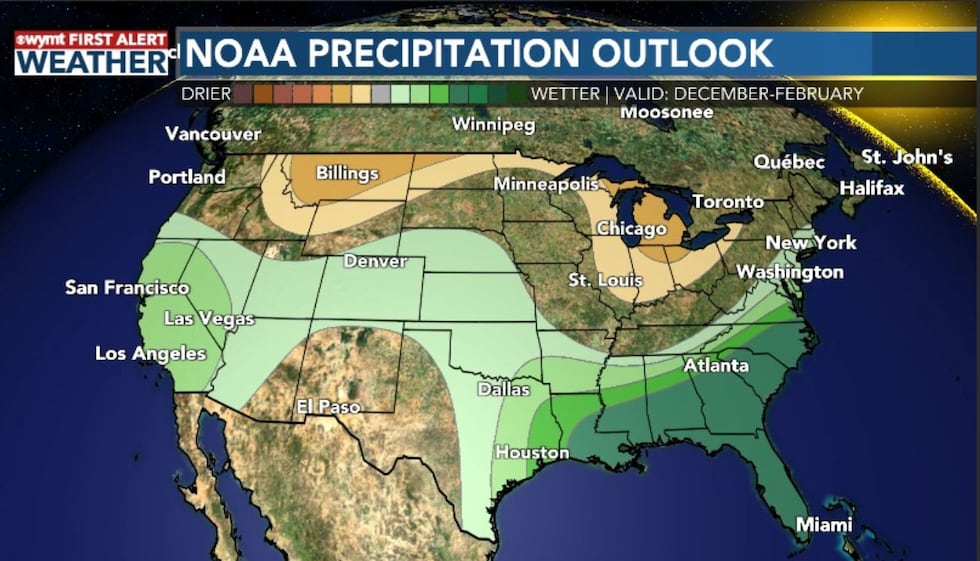 This forecast is dependent on an El Nino oscillation cycle. But what does that mean?
For the answer, we take a look at water temperatures off the coast of South America.
During El Nino, warm water collects off the western coast of the country because of weaker trade winds.
But how do temperatures thousands of miles away affect our weather pattern? Those temperatures change the location and strength of the jet stream.
During El Nino, the Pacific jet stream typically strengthens and pushes more moisture across the southern part of the country.
Meanwhile, the polar jet stream shifts north and keeps most of the cold air in Canada, but that does not rule out some cold snaps during the winter.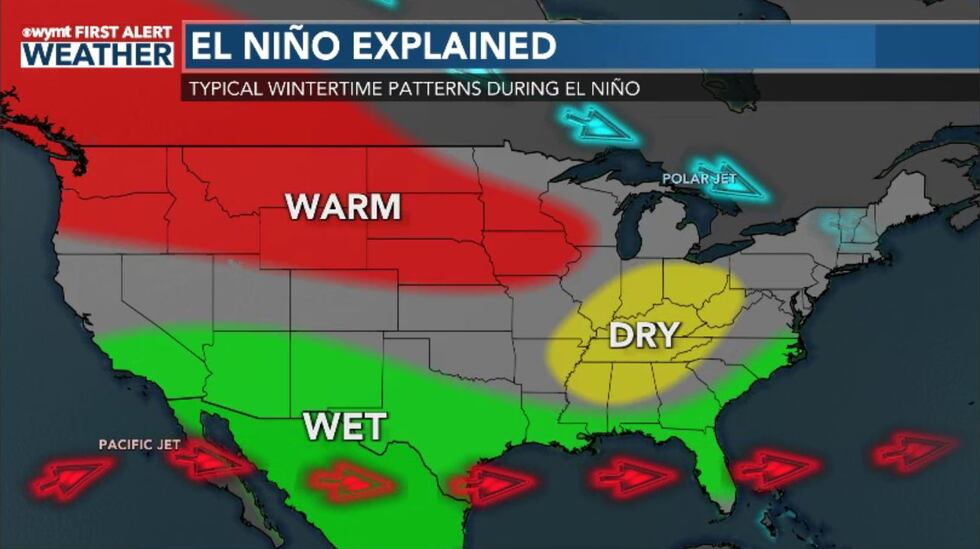 Can those cold snaps line up with some of the moisture from the stronger jet stream? That is the $1 million dollar question.
Now, here is what you all have been waiting for: Our thoughts for the upcoming winter.
Keep in mind that this is just a forecast and forecasts can change.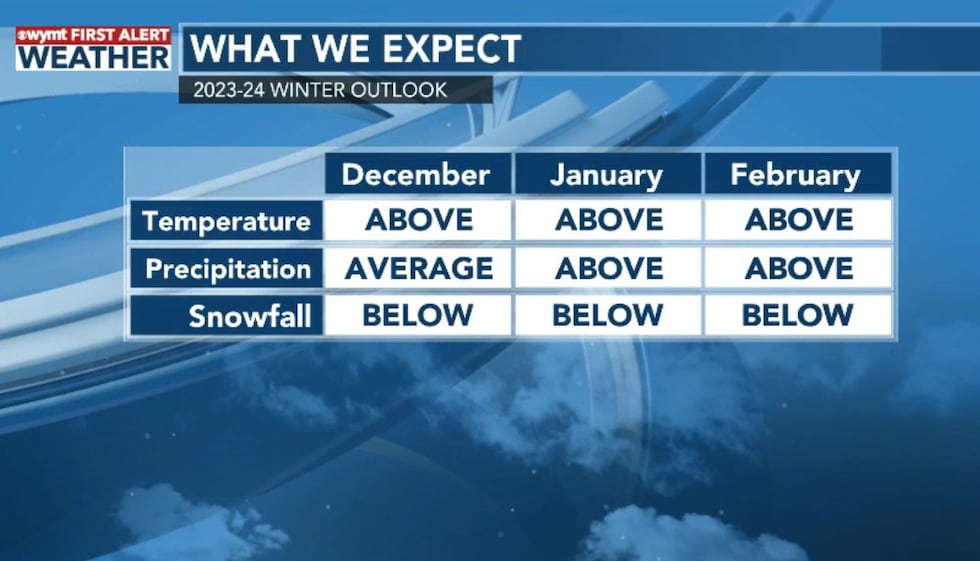 When it comes to predictions for temperatures and precipitation the three months, above and below are going to be popular words, but not in the way you want them to be.
We believe temperatures will be above average all three months while snowfall will be below average.
When it comes to rain, we believe we will be right around average for December and above average for January and February, which could continue our trend of end-of-season floods in February and early March.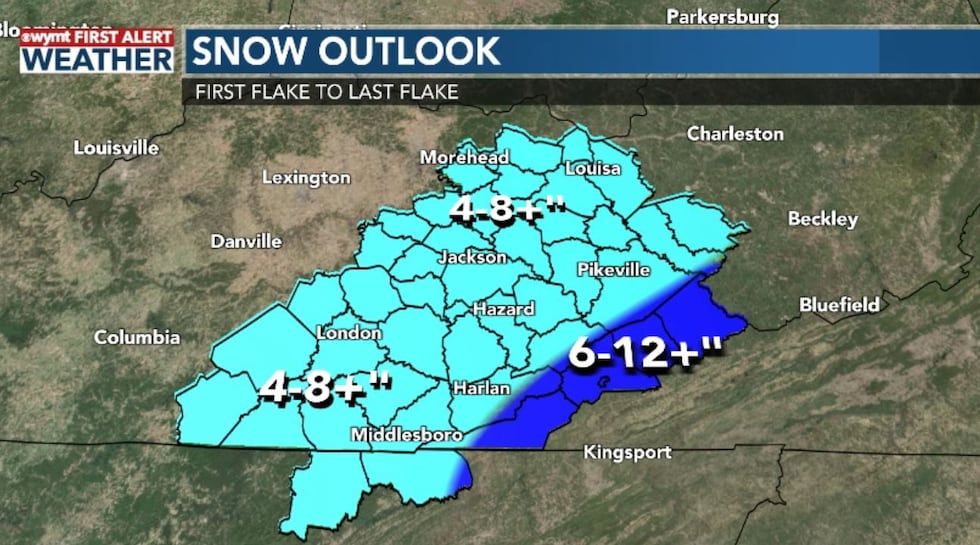 That being said, if you are a snow fan and you want a lot of snow days, I don't know if we can help you this year.
From first flake to last flake, we are forecasting a general 4-8″ of snow across the mountains with some locally higher amounts possible.
In the highest elevations above 2,000 feet, you could see a little more, in the range of 6-12″ with some locally higher amounts possible there too.
I know that's probably not what you want to hear, but that's what we've got for you.
Again, remember, big swings can happen depending on where the warmest and wetter air sets up, so we'll just have to wait and see how it plays out this winter.
Copyright 2023 WYMT. All rights reserved.