Kentucky football drops second consecutive game in Columbia
Published: Nov. 18, 2023 at 7:14 PM EST
HAZARD, Ky. (WYMT) - The Kentucky Wildcats fall for their second consecutive loss in Columbia against the South Carolina Gamecocks, 17-14.
The Cats received the ball first and would end their first drive of the game with a Leary sack for a three-and-out.
South Carolina struck first with a 11 play, 69-yard drive on their first possession of the game.
Gamecocks quarterback Spencer Rattler found Xavier Legette for a 13-yard touchdown pass, leading UK, 7-0.
Following the Gamecocks' score, the Cats end another drive with a three-and-out after two incomplete passes and a facemask penalty call.
A big-time scramble by Rattler across the left sideline put the Gamecocks back in the redzone.
The Cats' defense was able to force South Carolina to settle for a field goal, 10-7.
Running back Demie Sumo-Karngbaye ran three yards on 3rd & 3 for the Cats first third-down conversion of the game.
After a big drop a few snaps prior, wide receiver Barion Brown brought down a 7-yard pass from Leary around the ten-minute mark of the second quarter for the Wildcat touchdown.
This score cut the Gamecocks' lead down to three, 10-7.
In UK's next drive after the score, Leary was sidelined after an intense hit while sliding.
Former Somerset Briar Jumper Kaiya Sharon checked in the game in his place.
Leary returned after a few plays on the same drive, but was intercepted on a pass attempt aimed at Isaiah Cummings.
UK ended the half trailing by 3, 10-7.
The Cats would score in their first drive of the second half after running back Ray Davis slipped through the middle before hitting a defender with a silky, smooth spin move in his way to a 31-yard touchdown run.
Davis' score captured UK's first lead of the game, 14-10.
UK's defense continued to support the team after Octavious Oxendine made a destructive sack on Rattler.
South Carolina jumped back into the game on Legette's second touchdown of the night, leading UK, 17-14.
The game had an exhausting finish with little movement for a few minutes until South Carolina gained the edge after Kentucky was unable to connect on shots down field to take the lead.
The Gamecocks' then played ball control football to milk the clock until South Carolina came out on top, 17-14.
Armando Barry and Audrey Hausberger will recap the Cats' evening in Columbia on ARH Sports Overtime at 11:20 p.m.
Here is the box score from the game: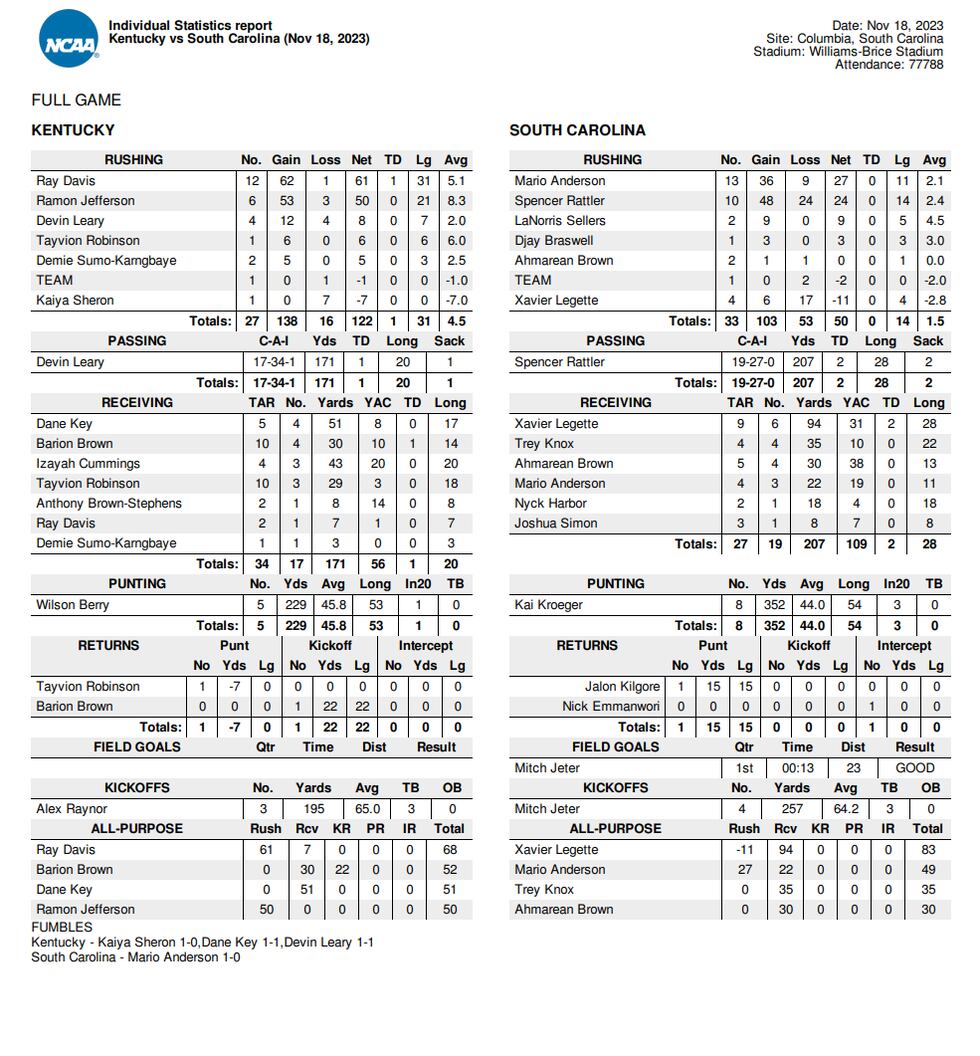 Copyright 2023 WYMT. All rights reserved.