Much needed rain arrives today, first of several chances
Published: Nov. 17, 2023 at 2:30 AM EST
|
Updated: Nov. 17, 2023 at 7:40 AM EST
HAZARD, Ky. (WYMT) - The clouds are moving in and the rain isn't far behind. Temperatures will also be back and forth all the way into next week.
Today and Tonight
It will be a dreary-looking start to the day, but after all of this dry weather, it gives us hope that some much-needed rain is coming. It will likely arrive after lunchtime and could be heavy at times into the evening and first part of the overnight hours.
It couldn't come at a better time, because the updated drought numbers are not good. A lot of the region moved into the severe category with extreme not too far away.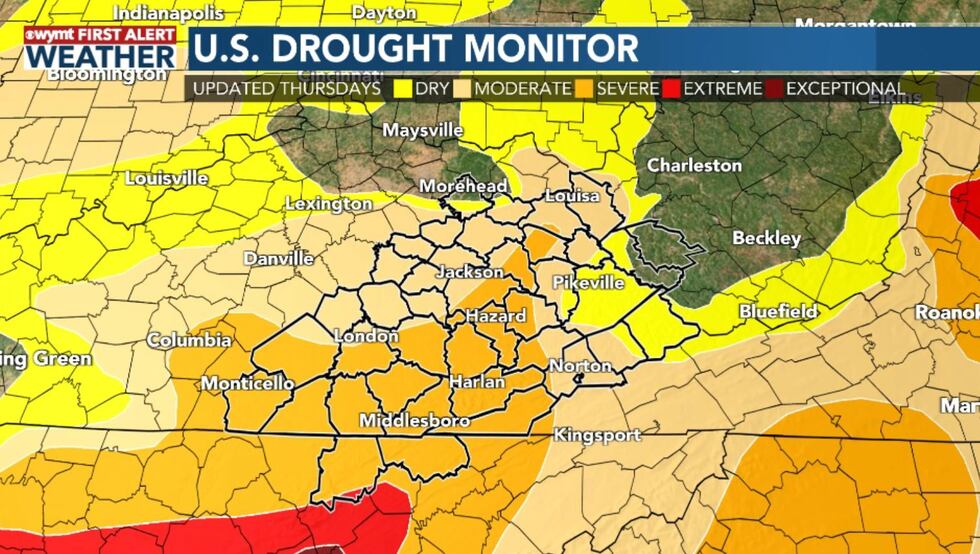 More than one dozen forest fires are also still burning, so hopefully this round of rain will put them out. Before the rain moves in, temperatures should still make it into the mid to upper 60s before slowly falling into the mid-40s overnight.
If you have Friday night outdoor plans, you might want to rethink them or at the very least keep your rain gear handy.
Weekend Forecast
Your daytime high for Saturday will be at midnight, likely somewhere in the mid to upper 50s. Stray rain chances could linger early, but the sunshine should be out by late morning, helping us rebound to right around 50° or so. Clear skies will take us back into the 30s on Saturday night.
Sunday looks pretty pleasant to wrap up the weekend with a mix of partly cloudy to mostly sunny skies. Highs will top out in the upper 50s before lows drop to around 40° as clouds increase some by Monday morning.
Extended Forecast
Thanksgiving Week is a story of twists and turns. It looks like we start Monday dry, but we will not end it that way. Rain chances return in the evening and overnight hours as our second cold front of the week approaches the region. Temperatures will push their way back into the low 60s before the rain returns.
Soggy conditions will be around on Tuesday as the front passes through the mountains. Highs will struggle their way toward their way back toward 60°, but some will not make it. As the rain winds down on Tuesday night, depending on how fast the cold air fills in behind the front, you *could* see a few flakes fly on Wednesday morning before the skies clear out again. Your highs on Wednesday will be at midnight in the mid-50s and fall into the 30s during the day and into the 20s overnight.
Thankfully, Thanksgiving looks dry but chilly. The latest trends have us only getting to around 40° for highs, even with a mix of sun and clouds. Black Friday looks similar with highs only making it into the low to mid-40s. Morning lows for you early morning bargain hunters look to be in the mid-20s, so be ready for that.
Have a good weekend!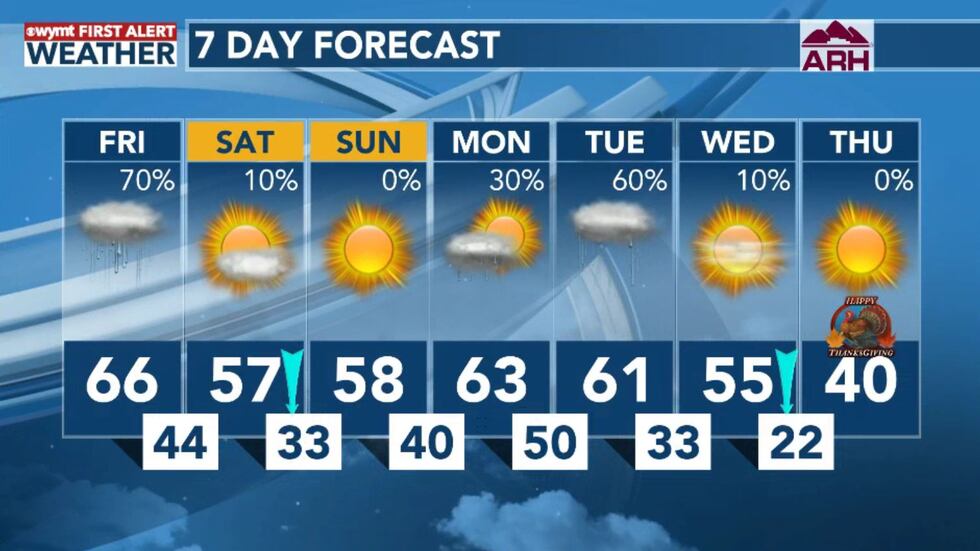 Copyright 2023 WYMT. All rights reserved.