Surge of warmth before cold front brings rain and cooler air
Published: Nov. 16, 2023 at 2:09 AM EST
|
Updated: Nov. 16, 2023 at 7:32 AM EST
HAZARD, Ky. (WYMT) - We will see one more day of relative warmth and drier conditions before some much-needed rain moves back into the region.
Today and Tonight
A mainly clear start will give way to a sunny and warmer day, especially by November standards. Temperatures will start in the 40s before working their way into the low 70s this afternoon. With any luck, this will be our last day for a little bit with an increased risk for forest fires. Most of the region is under a burn ban, but regardless if your county is or not, please don't burn. Relative humidity will be low again this afternoon and that with a small breeze could fuel more problems.
Tonight, the clouds start to increase ahead of Friday's system. Temperatures should only drop into the low 50s overnight.
Extended Forecast
Cloudy skies and spotty showers will join us Friday morning and the heavier bands of rain will move through on Friday afternoon and evening. You might want to take a close look at any evening outdoor activities to see if they need to have rain gear or moved inside if possible. Highs will climb into the mid to upper 60s early in the day before starting to tumble. Rain chances will continue through Friday night and into early Saturday before tapering off. Lows drop into the mid-40s by Saturday morning.
Speaking of Saturday, while your daytime high will likely be in the mid to upper 50s around midnight, I do think clearing skies by the afternoon hours will help us rebound back close to 50° during the day. Those clearing skies will make it chilly Saturday night as lows drop into the low 30s.
Sunday looks pretty good with a mix of mostly sunny to partly cloudy skies. Highs work their way back into the mid to upper 50s before lows drop back into the low 40s.
Monday will start dry, but it will not stay that way. Another front is on the way in and the rain chances will increase again by Monday afternoon and evening. That rain will hang around through Tuesday before starting to move out early Wednesday. Highs Monday and Tuesday will stay near 60°, but fall into the 40s by Wednesday afternoon.
I can tell you one thing: At this point, Thanksgiving and Black Friday look dry, so there is that. Yes, we are only one week away from Turkey Day. This year has flown by.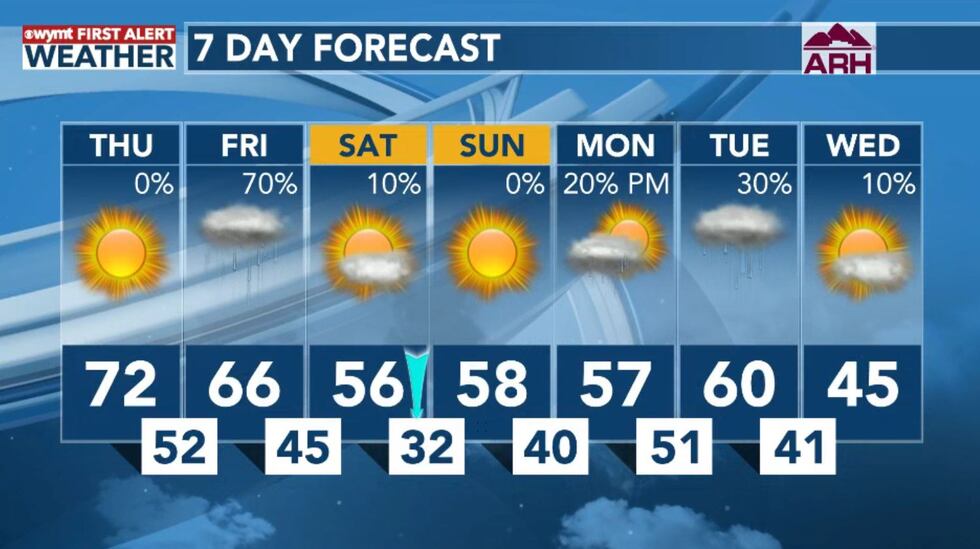 Copyright 2023 WYMT. All rights reserved.