NTSB team visits scene of deadly Ohio interstate crash involving busload of high school students
Published: Nov. 15, 2023 at 11:00 AM EST
|
Updated: Nov. 15, 2023 at 6:00 PM EST
ETNA, Ohio (AP) — A federal investigator looking into an Ohio bus crash that killed three students, two parents and a teacher with a high school band group praised on Wednesday the "good Samaritans" who rushed to the scene of the highway crash.
National Transportation Safety Board Chair Jennifer Homendy said numerous police and fire departments responded to the scene shortly after the Tuesday crash on westbound Interstate 70 in Licking County, about 26 miles (42 kilometers) east of Columbus. Among them were some Gahanna officers who were heading to a training event when they learned of the accident and went directly to the scene.
Homendy said the safety board team went to the scene Wednesday for the first time to get an overview of the site and start looking for cameras and other evidence from the five vehicles involved in the crash. The team will likely be in the area for five to seven days, and a preliminary report would likely be issued within the next few weeks, Homendy said.
She said there was "conflicting information" about the sequence of events that led to the chain-reaction crash, which also involved an SUV and a semitruck. The Pioneer Trails charter bus was carrying students and chaperones from the Tuscarawas Valley Local School District in eastern Ohio, who were headed to perform at an educational conference.
Three passengers on the bus, which was carrying a driver and 54 students and chaperones, were pronounced dead at the scene, the Ohio State Highway Patrol said. They were identified as John W. Mosely, 18, of Mineral City; Jeffery D. Worrell, 18, of Bolivar; and Katelyn N. Owens, 15, of Mineral City.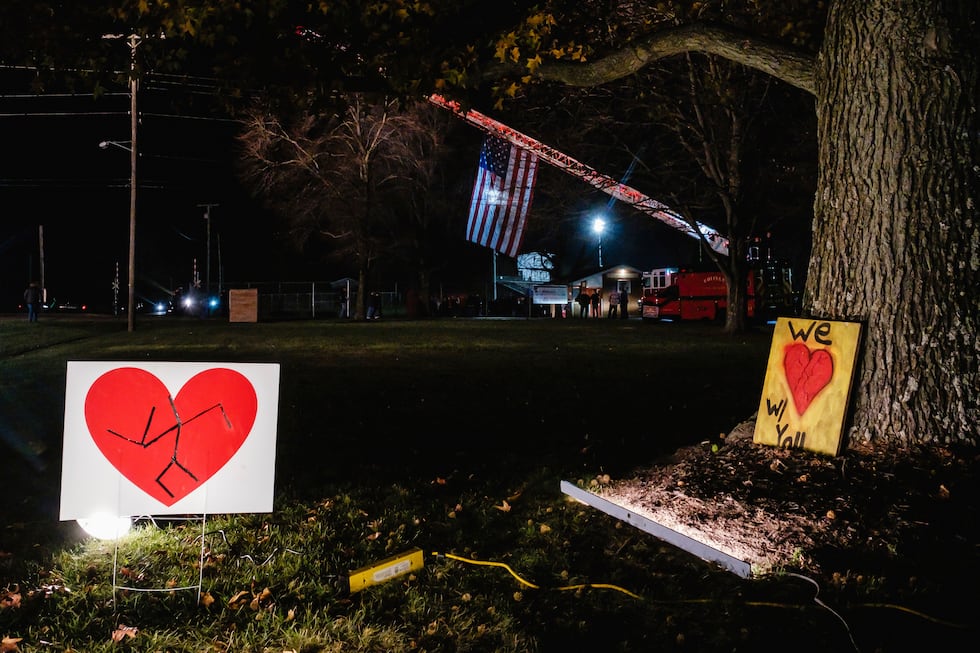 The three-day educational conference, billed as "the second-largest education convention in the nation," canceled its final day after organizers learned of the crash. The event, which began Sunday, offered professional development sessions for school district management teams and an annual Student Achievement Fair featuring 100 booths of innovative school programs.
Speaking Tuesday night at a community prayer vigil, Tuscarawas Valley Superintendent Derek Varansky described Tuesday as one of the darkest days in the district's history and the worst day in his life. He said the community was looking to honor those who died and "just lift up those families, those students on the bus who survived and will live with that traumatic experience and to our entire district for the dark days, week, months to come."
Varansky said classes were held Wednesday because district officials did not want any students home by themselves. Noting it wouldn't be "a typical school day," he said counselors and support staff from other community organizations would be at the schools to offer assistance.
All three people in one of the passenger vehicles involved — a teacher and two parent chaperones for the student trip — were also pronounced dead at the scene. They were identified as high school teacher Dave Kennat, 56, of Navarre; Kristy Gaynor, 39, of Zoar, and Shannon Wigfield, 45, of Bolivar.
Wigfield also served as a teacher at Buckeye Career Center, which offers career-technical education for students as well as adult education courses. The center said she was in her 24th year of teaching there and was an English language arts instructor who "will be remembered for her loving smile and always positive attitude."
The driver of the other passenger vehicle was also taken to a hospital. Of the drivers of the commercial vehicles involved, one was taken to a hospital with injuries that were not considered life-threatening and the other was treated at the scene, the highway patrol said.
Two students remained hospitalized Wednesday with serious but non-life-threatening injuries, district officials said.
Both sides of Interstate 70 were closed for several hours after the crash, creating major traffic delays in the area. The eastbound lanes reopened late Tuesday afternoon, while the westbound lanes reopened early Wednesday. Ohio State Highway Patrol troopers and state Transportation Department workers were at the crash site Wednesday, working in the highway's westbound shoulder. The interstate remained open in both directions.
Tori Wilson, a sophomore at the school who was sitting toward the back of the bus when it was hit, told WBNS-TV she overheard someone talking about a fire and they needed to get out, but she was struggling because she was stuck.
"I had a kid like over top of me having a seizure and not moving… unresponsive," she said. "I had my friend beside me to my right, that was sitting right to where I was, where I was gonna sit, but she said that I could have the inside towards the window. And all I could see was her head and the rest was all crushed underneath seats."
Wilson said that while the bus was burning, the junior high band director kept running back onto the vehicle, grabbing students and pulling them to safety.
"The kid behind me was complaining (about) his legs and I was trying to get out, but like I didn't wanna crush him because anytime I moved, the seats moved cause I was trying to get out and then he starts like screaming in pain," Wilson said. "The kid that was on the far right of the three, he was in the middle of the aisle and not moving."
Eventually, she pulled herself out of a window and escaped.
The collision was the second recent fatal crash in the U.S. involving high school students on a charter bus. In September, two people were killed and several others injured when a charter bus carrying high school students to band camp veered off a New York highway.
In Ohio, Republican Gov. Mike DeWine convened a School Bus Safety Working Group in August, after a minivan crashed into a school bus in Clark County, toppling the vehicle and killing an 11-year-old Northwestern Local Schools student. The minivan driver has been charged with vehicular homicide.
The panel meets next Thursday, when it will discuss training, on-bus instruction and hear from a panel of drivers and other practitioners. Spokesperson Judy Converse said the group's sixth and final meeting is scheduled for Dec. 1, with recommendations expected by the end of the year. Converse said it was unclear how charter buses carrying students might be addressed in the panel's final report, but that Tuesday's crash would be acknowledged at the meeting.
___
Associated Press writers Ron Todt in Philadelphia and Bruce Shipkowski in Toms River, New Jersey, contributed to this report.
Copyright 2023 The Associated Press. All rights reserved.