No. 17 Kentucky falls to No. 1 Kansas in Chicago
Published: Nov. 14, 2023 at 9:27 PM EST
CHICAGO, IL (WYMT) - The Kentucky Wildcats, ranked No. 17 in the latest AP Poll, faced off against the top team in the country Tuesday night.
Kentucky went up at halftime 48-41 after being down 11-3 in the 1st half.
Rob Dillingham led all scorers with 16 at the break.
Adou Thiero finished the first half with 13 points and nine rebounds.
After a back and forth battle, Kansas outlasted Kentucky 89 to 84.
Antonio Reevs led the way scoring for UK with 24, followed by Rob Dillingham with 18, Adou Thiero with 16, and Reed Sheppard with 13.
Hunter Dickson had a massive double-double for KU with 27 points and 21 rebounds.
Kansas is now at 3-0 this season with victories over NC Central, Manhattan, and Kentucky.
Kentucky now sits at 2-1 with wins over New Mexico State and Texas A&M Commerce.
The two teams have played 34 times, with UK having a 24-12 edge over KU.
Box Score: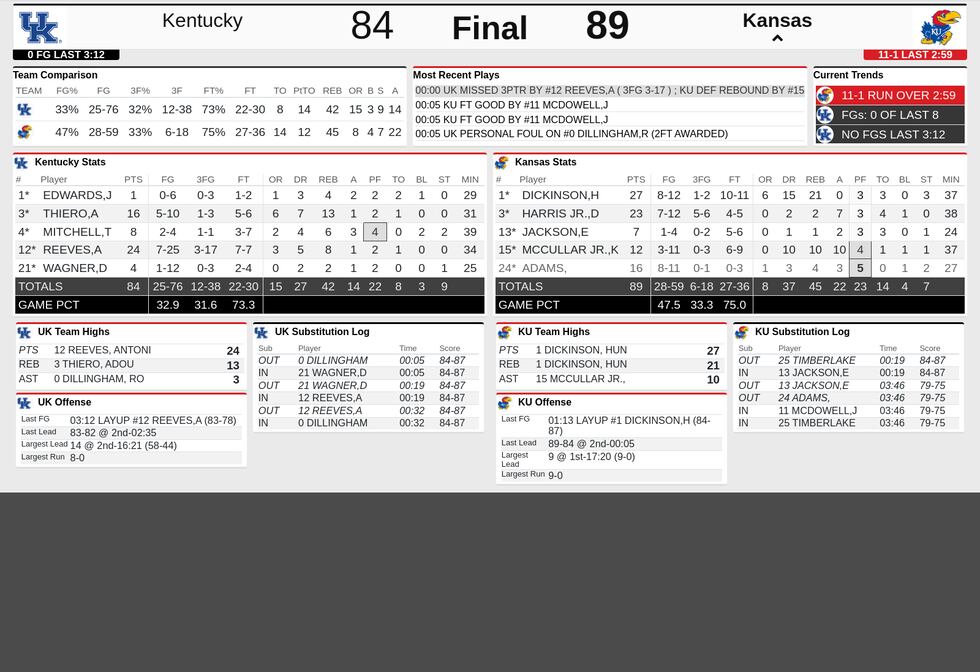 John Calipari, Adou Theiro, Reed Sheppard Post-Game:
Copyright 2023 WYMT. All rights reserved.