Mammoth Cave National Park to host Cave Sing on Dec. 3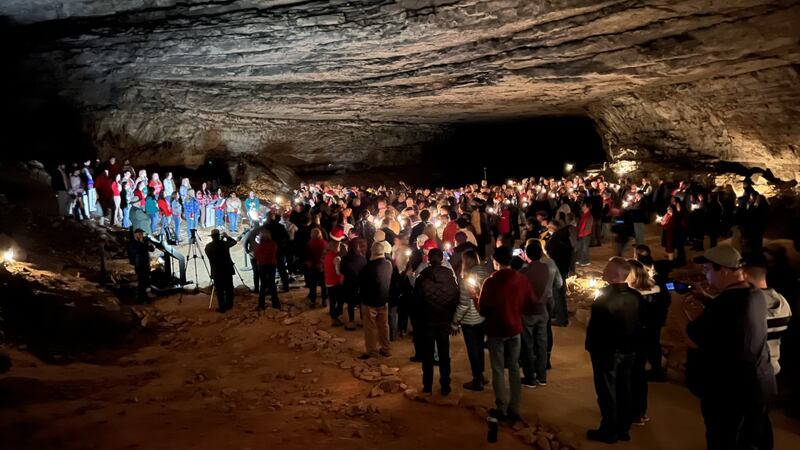 Published: Nov. 15, 2023 at 2:33 PM EST
MAMMOTH CAVE, Ky. (WBKO) - Mammoth Cave National Park will host the 44th annual Cave Sing celebration on Sunday, Dec. 3 at 2 p.m.
The free holiday event will feature musical performances in the cave by The Band Table Singers and The Caveman Chorus.
"Cave Sing celebrates a tradition of holiday music at Mammoth Cave that began in 1883 when local residents held a Christmas celebration that brought the local community together inside the cave," said Superintendent Barclay Trimble. "Since our modern Cave Sing celebration started in 1980, we have been honored to welcome a variety of local and regional artists to help us ring in the holiday season with our community and park visitors from far and wide."
Cave Sing participants will meet behind the park visitor center and depart for the Historic Entrance at 2 p.m.
Participants must walk approximately 0.75 miles round trip, to reach the performance area.
The access trail includes a steep outdoor hillside to and from the cave's natural entrance with a total of 130 stairs.
Participants will travel along broad walkways inside the cave through largest passageways.
The trail is mostly level, but some hilly and uneven areas exist.
Even though the cave air stays near a constant 54 degrees Fahrenheit, wind chills near the entrance may be much cooler.
There are no seating options, and the estimated performance time is around 45 minutes to 1 hour.
Light refreshments will be served in at the visitor center immediately after the performance where there will also be a visit from Santa Claus.
This year, the holiday music will be performed by two separate groups who have ties to the local community.
The Band Table Singers are a group of friends from Glasgow who began singing at their high school breakfast table over 10 years ago.
They originally entertained with silly, catchy songs but slowly began to shift towards the gospel music genre.
The Caveman Chorus has been a part of the south-central Kentucky arts community for over 50 years.
The group performs many genres of music ranging from barbershop favorites to rock-n-roll classics, jazz standards to patriotic anthems, in a four-part acapella harmony style.
Copyright 2023 WBKO. All rights reserved.