Christie says primary opponents not taking foreign policy seriously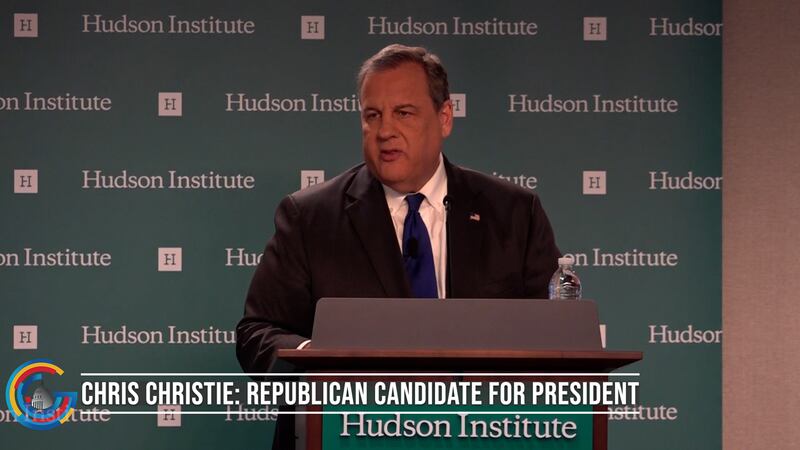 Published: Nov. 15, 2023 at 5:21 PM EST
WASHINGTON (Gray DC) - Speaking to a Washington D.C. audience at the Hudson Institute, presidential hopeful Chris Christie said a lack of American leadership is contributing to conflicts across the globe.
"Putin in Russia is engaged in a war of aggression as we know, against our ally in Ukraine. Xi Jingping is moving ever closer to trying to attack Taiwan, and the Iranian regime is the banker for terrorism in the world."
Christie said President Joe Biden has not been strong enough on foreign policy.
"His disastrous withdrawal from Afghanistan, his mixed signals prior to the invasion of Ukraine, including saying out loud, maybe a small invasion wouldn't be so bad."
Christie said America needs to be more involved in foreign conflicts than Donald Trump wants, and he criticized primary opponents like Florida Governor Ron DeSantis, saying he is pushing one liners and slogans as foreign policy.
"Use the United States army to invade Mexico. This is fundamentally unserious. This is TV tough guy talk, which he learned from his mentor Donald Trump."
Christie also criticized opponents Nikki Haley and Vivek Ramaswamy, telling audience members the foreign policy solutions his opponents are pushing at debates lack substance.
Christie is currently polling sixth in the race for the Republican presidential nomination.
At the event, Christie said he has qualified for the fourth presidential debate
Copyright 2023 Gray DC. All rights reserved.