Biden announces 5 federal judicial nominees and stresses their varied professional backgrounds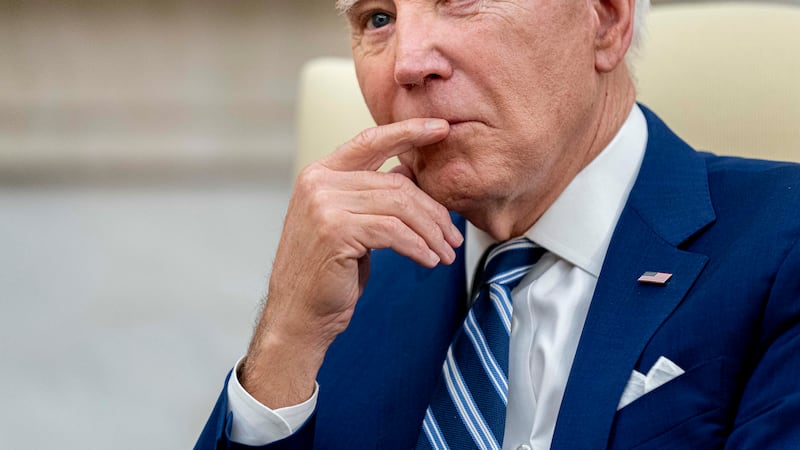 Published: Nov. 15, 2023 at 8:10 AM EST
WASHINGTON (AP) — President Joe Biden on Wednesday announced five nominees to federal judgeships, including the first Muslim-American on any circuit court, looking to add to more than 150 of his judicial selections who have already been confirmed to the bench.
The announcements by the Democratic president are part of the White House's push to nominate diverse judges, especially those from a wide variety of professional backgrounds, and to do so even in states with Republican senators.
Biden nominated Nicole Berner, the general counsel of the Service Employees International Union, for the Fourth Circuit Court of Appeals. If confirmed by the Senate, Berner would be that court's first openly LGBTQ judge.
Adeel Mangi, Biden's nominee for the Third Circuit Court of Appeals, would be the first Muslim-American circuit court judge, if confirmed.
Biden nominated Judge Cristal Brisco, who would be the first Black woman and the first woman of color to serve as U.S. District Court judge in the Northern District of Indiana. He also nominated Judge Gretchen Lund, who has served on the bench for 15 years, for that district, which has multiple vacancies.
Judge Amy Baggio, a former assistant federal public defender, was the president's nominee for the District of Oregon.
White House counsel Ed Siskel noted that the nominees include "four women, two nominees from a state represented by Senate Republicans, and three historic first nominees."
They continue "the president's drive to bring professional and demographic diversity to the federal judiciary, and his commitment to working with senators on both sides of the aisle," Siskel said in a statement.
The White House said Biden has "set records when it comes to professional diversity, appointing more civil rights lawyers and public defenders than any previous president."
Biden has appointed 154 life-tenured judicial nominees who have been confirmed by the Senate. Of those, the White House says that two-thirds are women and two-thirds are people of color, including Supreme Court Justice Ketanji Brown Jackson, the high court's first Black female justice.
The White House says that it is just getting started and that more judicial appointments are in the works. But the process of moving nominations through the Senate — even one controlled by Democrats — is slow enough that Biden may struggle to match in four years the 230-plus judges appointed to the federal bench by his Republican predecessor, Donald Trump.
Trump, who lost to Biden in 2020 and has built a commanding early lead in the 2024 Republican presidential primary, also appointed three justices to the Supreme Court compared with Biden's one.
Copyright 2023 The Associated Press. All rights reserved.