Mammoth Cave celebrates National Fossil Day, unveils recent discoveries
New species of ancient 'apex predators' are still under review.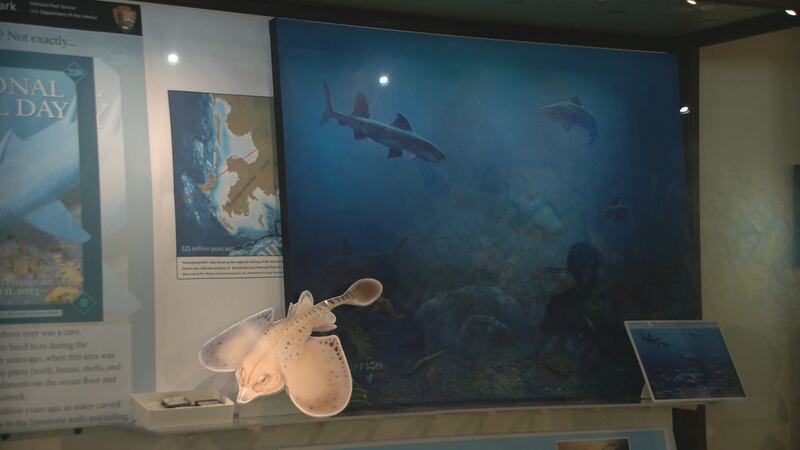 Published: Oct. 23, 2023 at 6:35 PM EDT
MAMMOTH CAVE, Ky. (WBKO) - In addition to announcing the discovery of Tolleson's Scraper Tooth, an ancient shark species, earlier this month, paleontologists at Mammoth Cave have several additional sharks currently under review that may also be completely new to science.
At today's celebration of National Fossil Day, cave guides and paleontologists unveiled a display for Strigilodus Tollesonae, or Tolleson's Scraper Tooth, a small species of shark that existed roughly 340 million years ago.
Named for cave guide, Kelli Tolleson, a life-sized replica of the shark as well as its teeth are now part of a permanent display at the Mammoth Cave Visitor Center, along with an original painting donated to the park that depicts a scientifically accurate rendering of what the tropical waters of Mammoth Cave looked like hundreds of millions of years ago.
However, Strigilodus is only the first of several species found within the cave walls that could be new additions to science.
"So, we have identified at least two to three more new species that we are currently in the process of publishing on," said J.P. Hodnett, a paleontologist with the National Park Service and manager of the Maryland National Capital Parks and Planning Commission's Dinosaur Park.
Hodnett is the leading researcher for ancient shark species nationwide and has been the driving force of the new discoveries made in Mammoth Cave, as well as fossil studies conducted across the country.
"I can't tell you too much about it, but they're pretty exciting. These are more apex predator-type sharks, whereas Strigilodus is more of what we call a mesic or middle-grade kind of predatory animal," Hodnett said. "This new stuff kind of looks more like sharks that we would recognize today, in a way, so they're gonna look really cool when they come out."
Some of the potentially new species found at Mammoth Cave could dwarf current oceanic apex predators, including the Great White shark. At their largest, Great Whites reach lengths of 16 to 20 ft.
"What we have evidence of in Mammoth Cave are some animals that are reaching somewhere between 20 to 28 feet on some of the bigger teeth we've found, but there's potential that this animal could get somewhere closer to like 30 to 35," Hodnett said.
Examples of those teeth and the remains of many ancient animals, including dinosaurs, cave bears, and mastodons were on display for the celebration. Hodnett hopes that through National Fossil Day and the recent discoveries in the cave system, more people will begin to research the fossils that can be found directly beneath their feet.
"People think of fossils, yeah, you have to go out somewhere crazy wild and out of the way, but it turns out, fossils are everywhere," Hodnett said. "They represent ancient living communities that range from like, really deep in time when critters were kind of really weird and alien, to something a little more recent like the last ice age when we had things like wooly mammoths and mastodons wandering places like here in Kentucky."
These discoveries are made through Mammoth Cave's ongoing Paleontological Resource Inventory, which researchers hope to have complete and ready for publication in the coming months.
Copyright 2023 WBKO. All rights reserved.