Fort Knox soldier awarded for bravery, reunited with survivor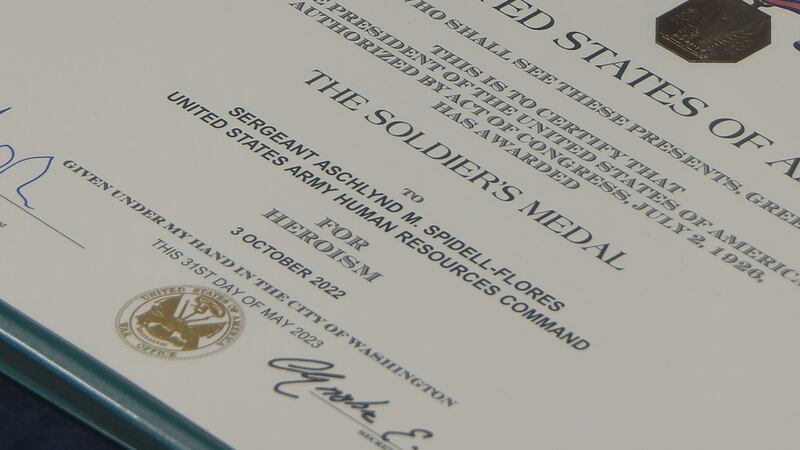 Published: Oct. 21, 2023 at 3:02 PM EDT
|
Updated: Oct. 21, 2023 at 11:21 PM EDT
LOUISVILLE, Ky. (WAVE) - An honor bestowed on a Fort Knox soldier, but the biggest reward is the life she saved. On Friday, Staff Sgt. Aschlynd Spidell-Flores was awarded the Soldier Medal for her heroic actions a year ago.
While driving home on Oct. 3, 2022, Staff Sgt Spidell-Flores saw a bad car accident and ran to assist those involved. She saved the life of one woman, Dianna McMahan. Spidell-Flores found McMahan in her car, which was on fire. Without hesitation, Spidell-Flores rescued McMahan.
"Words are really hard to say," McMahan said. "It's an overwhelming thank you feeling to hug the neck of the person who saved your life."
The accident fractured both McMahan's feet, broke six ribs and caused some brain damage. She says she's still going through physical therapy.
For her bravery on Oct. 3, Spidell-Flores was promoted and given the Soldier's Medal. She remembers the moment she saved McMahan's life.
"I kept saying ma'am to try and get you alert, but you weren't responding, so I dropped my head in despair," Spidell-Flores said. "I didn't give up on you. I tapped you one more time, and you lifted your head up. You never said anything to me, but I told you I would get you out of the car."
The award Spidell-Flore received is the Army's highest peacetime award for heroism.
For someone to receive the Soldier Award, they must be involved in a dangerous situation voluntarily that could cost them their life, that's not involving conflict with an armed enemy. The Award is not made solely based on having saved a life, assisted emergency personnel, or acted as a good Samaritan.
Copyright 2023 WAVE. All rights reserved.