Dry for today and tomorrow, front brings a big taste of fall this weekend
Published: Oct. 4, 2023 at 2:33 AM EDT
|
Updated: Oct. 4, 2023 at 7:42 AM EDT
HAZARD, Ky. (WYMT) - The above-average temperatures will continue for a couple of more days, but some much cooler air is on the way in the coming days.
Today and Tonight
Some patchy fog will be around this morning and temperatures will start out in the upper 50s and low 60s. Mostly sunny skies will start the day, but clouds will start to increase this afternoon. Highs will top out in the low to mid-80s for most.
Partly cloudy skies will take us into tonight. Lows will drop into the low 60s.
Extended Forecast
After a few peeks of sunshine early, the clouds will take over as the cold front approaches the region on Thursday. It looks like we will stay dry during the daytime hours, but that will not be the case Thursday night. Even with the clouds, southwest winds ahead of the front should still push us into the low 80s for highs. The rain chances pick up overnight. The clouds should keep us in the low 60s for lows.
Once the front arrives on Friday, those southwest winds are going to shift to the northwest and it's going to drop temps ... fast. Scattered showers and maybe even a few rumbles of thunder are possible all day Friday, so be ready to dodge the rain if you have outdoor plans. Sorry festival and football fans. Temperatures will struggle to climb into the low 70s for highs and it will be breezy. Most models now have the rain moving out late Friday night, but if it manages to hang around into Saturday, it would be short-lived. Lows will drop into the upper 40s Friday night as the front exits the region.
While the skies will clear on Saturday afternoon, the effects of the cold front will be felt. Even with late-day sunshine, we will struggle to climb into the low 60s for highs. That will be a 20-degree difference from just 48 hours earlier. It will still be breezy too, so it will feel colder than the low 60s. Saturday night could get ... interesting. Depending on how fast the skies clear, some locations could see their first lows of the season with a 3 in front of the number.
Sunday, even with a mix of sun and clouds, we will be lucky to make it out of the 50s for highs. Lows should stay a little warmer overnight, only dropping into the low 40s thanks to some clouds.
Break out the flannel and hoodies! Fall is coming!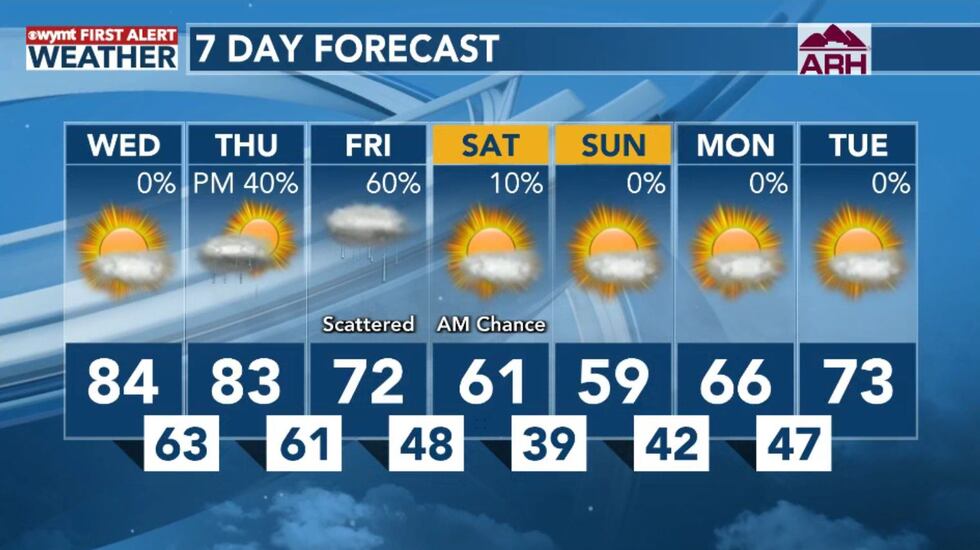 Copyright 2023 WYMT. All rights reserved.