Summer heat continues, fall returns in a big way this weekend
Published: Oct. 3, 2023 at 1:51 AM EDT
|
Updated: Oct. 3, 2023 at 7:10 AM EDT
HAZARD, Ky. (WYMT) - The next couple of days might have you forgetting what season we are actually in, but you will get a hard reminder later this week.
Today and Tonight
After another foggy start for some and temperatures in the mid to upper 50s, we will soar into the mid-80s with lots of sunshine. For context, our average high this time of the year is 74°. Today's high is 85°. Yup. That's a little warm.
Tonight, look for mostly clear skies with some patchy fog late. Lows will drop close to 60°.
Extended Forecast
Wednesday is nearly a carbon copy of Tuesday, but we will add a few clouds into the mix by the afternoon and overnight hours. Highs will still be in the low to mid-80s and drop into the low 60s overnight.
Thursday is when the changes start working toward us. We've been tracking a big-time cold front off to our west for a couple of days and it will start to knock on the door by Thursday evening. Scattered showers will pick up late Thursday night and stick around in scattered form all the way into the first part of the weekend. Sorry, festival and high school football fans. I held it off as long as I could for Friday nights.
Highs Thursday will stay in the low 80s, drop into the low 70s on Friday and low 60s on Saturday. Told you we were heading back to fall quick! The good news about Saturday, outside of a stray rain chance early, most of the day looks dry, so college football and any outdoor events going on Saturday afternoon should be good!
Now, here is the part that is going to make the warm weather fans potentially cry ... lows Saturday night under partly cloudy to mostly clear skies could drop to around 40° ... with some sheltered valleys falling into the 30s!
We will likely only make it to around 60° on Sunday, even with the sunshine. Break out the flannel and hoodies!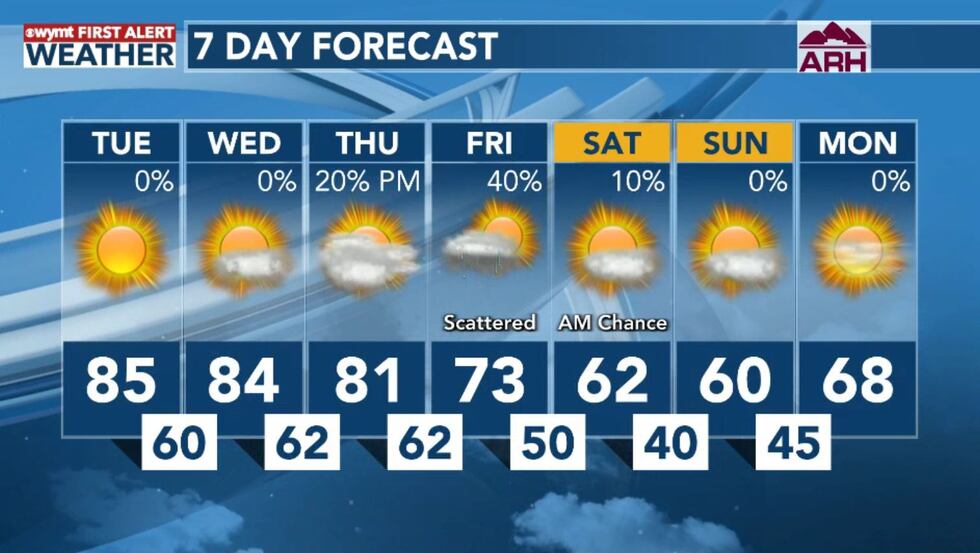 Copyright 2023 WYMT. All rights reserved.