Another round of scattered showers and storms today
Published: Sep. 28, 2023 at 1:42 AM EDT
|
Updated: Sep. 28, 2023 at 7:10 AM EDT
HAZARD, Ky. (WYMT) - Our rain chances continue today as the cold front continues its trek through the region.
Today and Tonight
Some fog and heavy pockets of rain are possible this morning and into the early afternoon. Temperatures will start around 60° and struggle to climb for a little bit. I'm cautiously optimistic we clear out a little this afternoon and that will help us get into the mid-70s. Just like yesterday, it will not be an all-day washout and some stronger storms are possible later. Just have a way to get any alerts that are issued.
Scattered showers and storms will continue into tonight. Lows will drop to around 60°.
Extended Forecast
Some spotty rain chances hang around on Friday, but I believe by the afternoon and evening hours, they will be a thing of the past and we'll see some late-day sunshine. Highs should top out in the mid to upper 70s. Skies will gradually clear tomorrow night taking us back into the mid to upper 50s for overnight lows.
High pressure takes over to wrap up September on Saturday and start October on Sunday. Sunny skies will keep us in the low 80s both days and clear skies drop us into the mid to upper 50s both nights.
The sunshine continues through most of next week as a taste of summer returns for the first week of October. Highs will be in the low to mid-80s, which is several degrees above average for this time of year.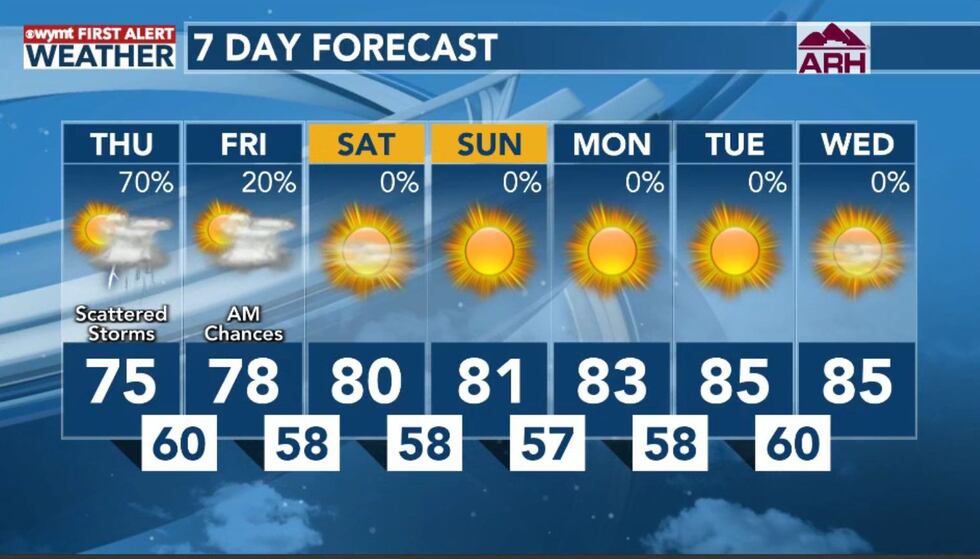 Copyright 2023 WYMT. All rights reserved.