Strong storms, heavy rain possible for some next two days
Published: Sep. 27, 2023 at 2:03 AM EDT
|
Updated: Sep. 27, 2023 at 7:46 AM EDT
HAZARD, Ky. (WYMT) - The drier air is moving out and some soggy conditions will be around at times for a little bit. Keep the rain gear handy.
Today and Tonight
After starting out in the low 60s this morning, waves of showers and storms will be around today. Most of the region is under a very low-end severe threat, so while I don't expect anything major to develop, it wouldn't hurt to stay weather-aware. Temperatures will top out in the upper 70s to around 80 today. Some spots could get a little warmer, because some sunshine will peek through the clouds at times. This will also not be an all-day washout, so don't be expecting that. Scattered is the word to remember.
Tonight, look for more chances for spotty showers and storms. Lows drop back into the low 60s for most.
Extended Forecast
Thursday continues the back-and-forth chances for scattered showers and storms. Again, not a washout, but enough to let you know they are still around. We will see a few more clouds on Thursday as the front tries to move out of the region, so it will likely stay in the mid to upper 70s all day. Rain chances start to move out some on Thursday night. Lows will drop to around 60.
Outside of a few stray chances for rain on Friday, I think we start to dry out pretty quickly for the weekend. For all of you warm weather fans, we head back toward 80 on Friday and back into the low to mid-80s with sunny skies through the weekend and into next week as we wrap up September and start the first days of October. How crazy is that? Time flies when you're having fun.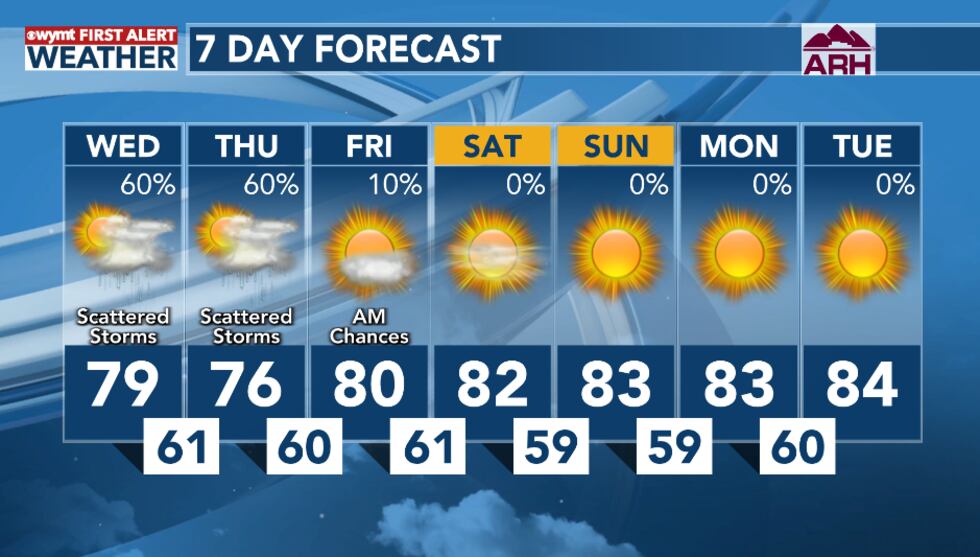 Copyright 2023 WYMT. All rights reserved.