Rain chances on the way back starting tonight
Published: Sep. 26, 2023 at 2:53 AM EDT
|
Updated: Sep. 26, 2023 at 7:09 AM EDT
HAZARD, Ky. (WYMT) - While we look to stay mainly dry for one more day, that will not be the case by Wednesday morning and beyond.
Today and Tonight
The forecast will start off very similar as it has a lot here lately: With patchy dense fog and cooler temperatures. Most of us will wake up in the 50s this morning before heading into the low 80s this afternoon with a mix of sun and clouds. There is a very slight chance for a sprinkle later today, but I think we will stay mainly dry until the overnight hours and very likely until early Wednesday morning. Lows will drop back down into the low 60s as cloud cover increases.
Extended Forecast
Scattered showers and storms will pick up on Wednesday and they will linger into Thursday and maybe even early Friday. This is all part of a front that we have been tracking for several days that is finally set to arrive in our region. Wednesday or Thursday will not be a complete washout, but there could be soggy points at times both days. Some of those storms could be on the stronger side, so keep the First Alert Weather app handy. Heavy rain could also be an issue for some, some keep an eye on your creeks and streams. Temperatures will take a hit, staying in the mid to upper 70s for daytime highs and dropping into the upper 50s and low 60s for overnight lows.
I'm still cautiously optimistic the rain will start to clear out by Friday afternoon for festivals and football games. Highs will try to rebound back close to 80° on Friday.
High pressure moves in for the weekend and lingers well into next week. We head back above average for our temperatures, so even though the fall season is officially underway, summer temperatures may not be done just yet.
Stay tuned!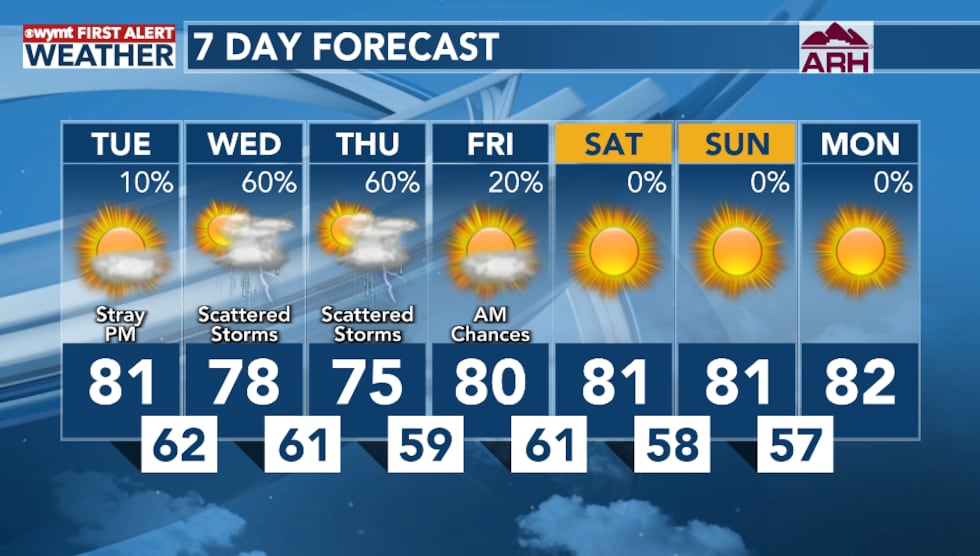 Copyright 2023 WYMT. All rights reserved.