So long, summer! Spotty rain chances possible for some Saturday
Published: Sep. 22, 2023 at 1:28 AM EDT
|
Updated: Sep. 22, 2023 at 9:18 AM EDT
HAZARD, Ky. (WYMT) - We are in our final hours of the warmest season of the year. You will feel some temperature changes as we roll into fall this weekend.
Today and Tonight
Some patchy fog could be around this morning. I still think most spots will end up in the 50s, but I think we'll be closer to the 60-degree mark when you wake up. A mix of sun and clouds will push us back toward and maybe just above 80° this afternoon. It will be a great day to be out at the Chicken Festival in London, the Mountain Heritage Festival in Whitesburg, the Sorghum Festival in West Liberty or any of the other outdoor events going on today in our region.
Tonight, it's looking good for the high school football fans with partly cloudy skies and temperatures dropping back into the mid-50s with a dry cold front.
Weekend Forecast
Fall will start with a tale of two skies across the mountains on Saturday. The further east you are, the better the chance for rain you have. This will not be due to our front overnight. A potential tropical system is working its way toward the Carolinas and Georgia and could work its way on shore early this weekend. The track of where it goes once it gets on land will make all the difference in who sees rain and how much. I don't think it will make it to a named storm, but it could. Regardless, the rain stretches out well away from the center of the low, so several states could see showers. Other parts of the region will see a mix of sun and clouds. Highs for all should get into the 70s, with most getting into the mid to upper 70s. Saturday night will feature clearing skies as the system pulls away and heads north along the coast. Lows will drop into the mid to upper 50s.
Sunday will stay dry and feature another mix of sun and clouds. Highs will still be in the mid to upper 70s before lows drop into the mid to upper 50s by Monday morning.
Extended Forecast
Parts of our area need some rain. It's been several days since we've seen any significant moisture. Some spotty chances are around for Monday and Tuesday, but it looks like our better chances arrive by the middle of next week. We should dry back out by the end of next week. Highs will stay in the 70s through Friday and lows will stay in the 50s. I don't know about you all, but I'm beyond excited for the cooler temperatures and the beautiful colors the season will bring to us here in the mountains.
Have a great weekend!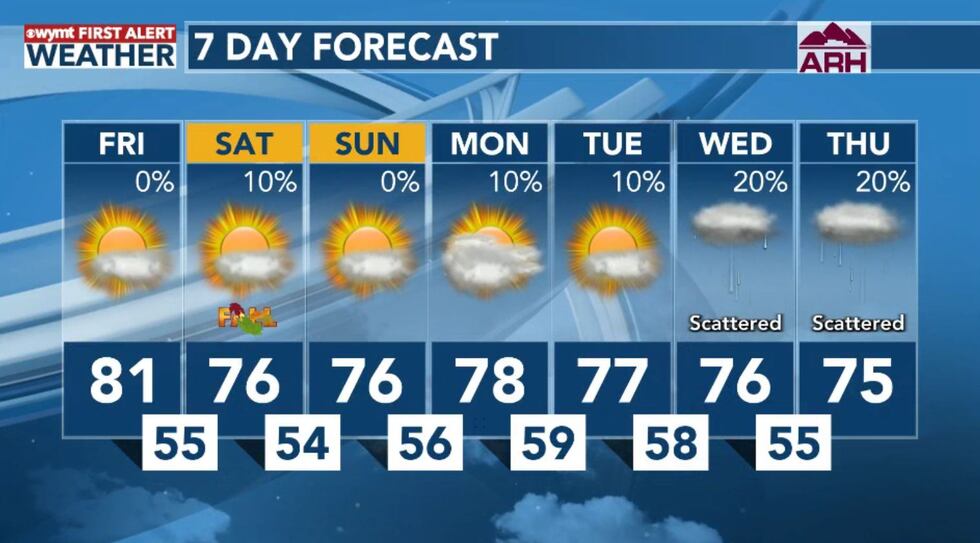 Copyright 2023 WYMT. All rights reserved.