Mild stretch of weather continues for a few days
Published: Sep. 21, 2023 at 1:45 AM EDT
|
Updated: Sep. 21, 2023 at 7:10 AM EDT
HAZARD, Ky. (WYMT) - The final days of summer feature some above-average temps and our next best rain chances keep getting pushed back.
Today and Tonight
I'm starting to feel like Bill Murray in the movie Groundhog Day (and yes, I know I've said this before, and that is what makes this reference all that much more appropriate, haha) with the copy-and-paste forecast. Listen, I'm not complaining, it's just getting harder to find creative ways to describe all this amazing weather we're having and how it looks to continue through the next few days.
We will wake up in the 50s again with some patchy dense fog and head into the low 80s this afternoon with a mix of sun and clouds. Looks for partly cloudy skies tonight with lows still in the 50s, but some spots may only make it into the low 60s, especially on the ridgetops.
Extended Forecast
The last full day of summer on Friday will feature ... sun and clouds and highs in the low 80s. Partly cloudy skies are around for Friday night as lows drop into the mid to upper 50s. It will be a very nice day for fairs, festivals and high school football games.
The first weekend of fall looks very similar with a mix of sun and clouds both days and some cooler air filtering in. Highs will top out in the mid to upper 70s, which is about where we should be temperature-wise this time of the year.
Our next best chance for rain keeps getting pushed back. It's now looking like late Monday into Tuesday before we see any rain, which we could use some of. That rain will cool things down a little, especially on Tuesday and Wednesday. Stay tuned!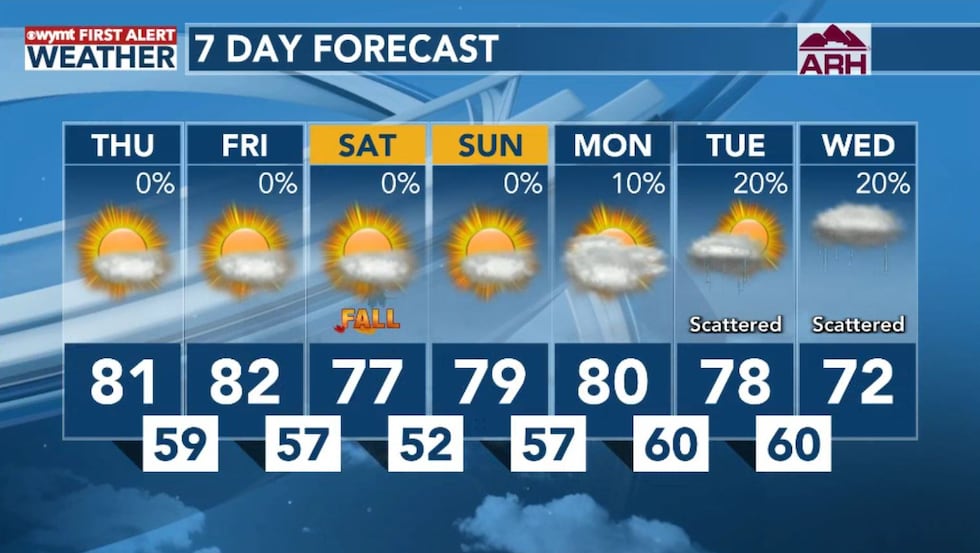 Copyright 2023 WYMT. All rights reserved.