'I went to bed a millionaire and didn't even know it': Corbin man buys $1M lottery ticket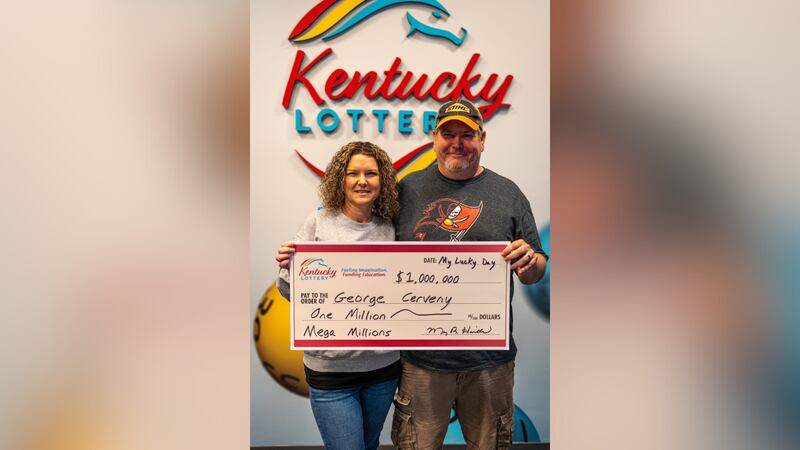 Published: Sep. 20, 2023 at 9:50 PM EDT
|
Updated: Sep. 21, 2023 at 4:24 PM EDT
CORBIN, Ky. (WYMT) - One lucky lottery player in Corbin won $1 million in Tuesday night's Mega Millions drawing.
State lottery officials said George Cerveny bought the winning ticket.
"I saw the numbers [Tuesday night] and thought those look real good, real good numbers and they looked familiar, but it didn't hit the three number and of course, that's the [Megaball] and I thought, 'okay, time to go to bed,'" Cerveny said.
He matched the five white numbers for the $1,000,000 prize.
"I went to bed a millionaire and didn't even know it," Cerveny said. "I've played the same numbers for years and this morning I got a phone call from one of my employees saying, 'hey call Circle K the manager's trying to get a hold of you.'"
The ticket was reportedly sold at Circle K on Gordon Hill Pike.
"I did a little dance hoping it was real," Cerveny told lottery officials.
He explained he bought tickets at the same Circle K for about ten years.
After taxes, Cerveny received a check for $715,000.
"We're going to get out of debt. That's probably the answer for most people but we're going to get out of debt and not have to worry about it…and figure out a nice vacation," he said.
Circle K will get $10,000 for selling the winning ticket.
Copyright 2023 WYMT. All rights reserved.