Hundreds of Kentuckians attend The Autism Society of the Bluegrass autism walk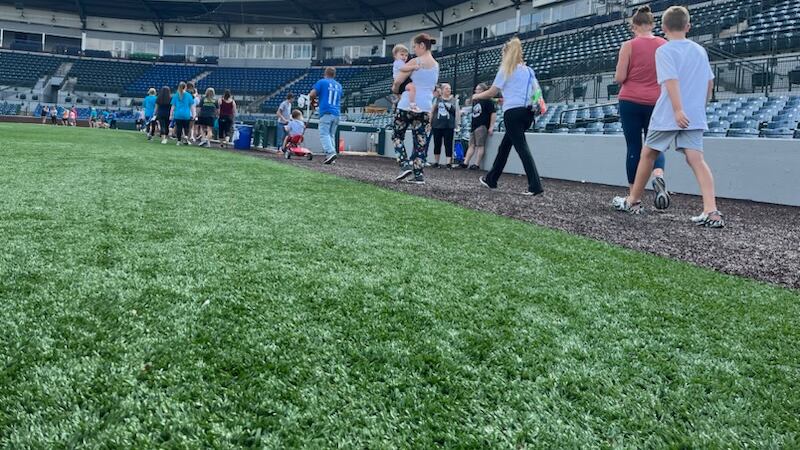 Published: Sep. 10, 2023 at 9:26 PM EDT
LEXINGTON, Ky. (WKYT) - The Autism Society of the Bluegrass' (ASBG) annual autism walk kicked off in Lexington on Sunday, offering more than just an opportunity to raise money for the organization.
"Its a chance for everybody in the autism community and supporters to get together in a place where they don't have to be self conscious or worried about how they look or sound and can just have some fun with each other," said ASBG President Sara Spragens.
Spragens said she understands how liberating gatherings like this can be for families of those on the spectrum.
"I have a son who was diagnosed with autism at age four and now he is 26," she said. "The very month we got our diagnoses, we attended our first ASBG meeting and we could not be where we are today without the support of the other families who knew the ropes already."
Funds from this event are used for autism-related education, advocacy, and resources for families, caregivers, and professionals who work with those on the spectrum.
Spragens said this year's event has brought in more than 250 walkers.
"When we're in the midst of planning this, I think, 'oh, will anybody be there?' every year, and it is just really heartwarming to everybody who is working with people with autism or has a family member who has autism to see this much support from the community," Spragens added.
For those on the spectrum like Robert Kiser, events like this offer confirmation that he's not alone in his diagnosis and that he has the chance to help others just like him.
"I know that what I do here is impacting people all over the world positively," Kiser said.
Spragens said she estimates The Autism Society of the Bluegrass raised $26,000 through Sunday's event. She hopes that amount and the attendance will grow even more next year.
Copyright 2023 WKYT. All rights reserved.