Fisherman says nearly 300-pound fish took over 2 hours to reel in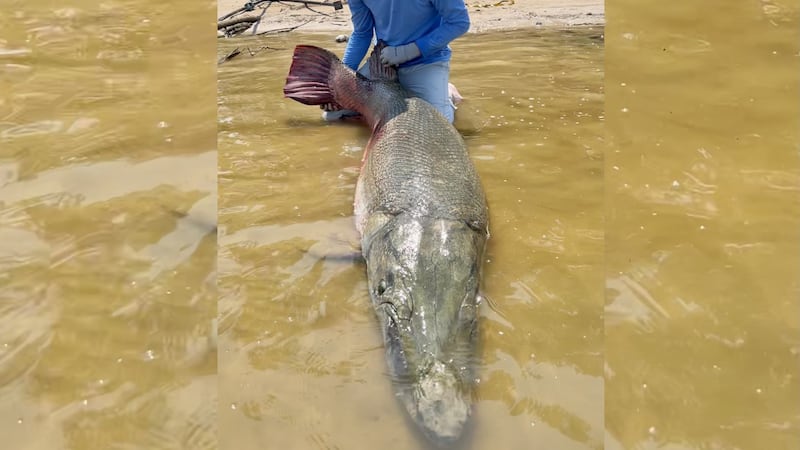 Published: Sep. 9, 2023 at 1:34 PM EDT
LUFKIN, Texas (WXIX/Gray News) - A Kentucky man with a passion for fishing may have broken an international record with his latest catch while on a fishing trip in Texas.
Art Weston has been fishing since he was a young boy growing up in Illinois with his father and brothers.
Over the past few years, he has been exploring several waterways with a guide service run by Capt. Kirk Kirkland, traveling around targeting International Game Fish Association world records.
"Fishing is my main hobby," Weston said. "I have targeted river fishing here in the states and in South America with over 50 current (and pending) IGFA fishing world records."
According to Weston, he recently broke a 70-year-old IGFA all-tackle world record while on an eight-day fishing excursion on Sam Rayburn Lake in Texas.
While on Kirkland's boat, Weston said he reeled in a 283-pound alligator gar last weekend that was 4 feet around and more than 8 feet long.
"I caught a 283-pound fish on a 6-pound test, that makes it even more special," Weston said.
According to IGFA's website, the current all-tackle world record for that type of fish is 279 pounds and was set by Bill Valverde on Dec. 2, 1951, in Rio Grande, Texas.
"Alligator gar will surface numerous times during a fight to get gulps of air or to jump, and if you have a great guide, they can get a rope on it and land it at the side of the boat, which is legal for an IGFA record," Weston said. "We keep the boat right over the fish the whole time we are fighting it to be ready to land it when it surfaces."
It reportedly took Kirkland and Weston about two hours and 45 minutes to land the creature.
After the pair took the measurements of the fish they released it back in the water, something they said they do with all their catches.
"What I enjoy about fishing and especially record hunting, is all the strategy and knowledge you must gain and how well you plan for each trip. I apply learning from prior trips to keep me advancing in the sport," Weston said.
Copyright 2023 WXIX via Gray Media Group, Inc. All rights reserved.