Man accused of killing manager at CVS Pharmacy: 'I bet he ain't talking no more'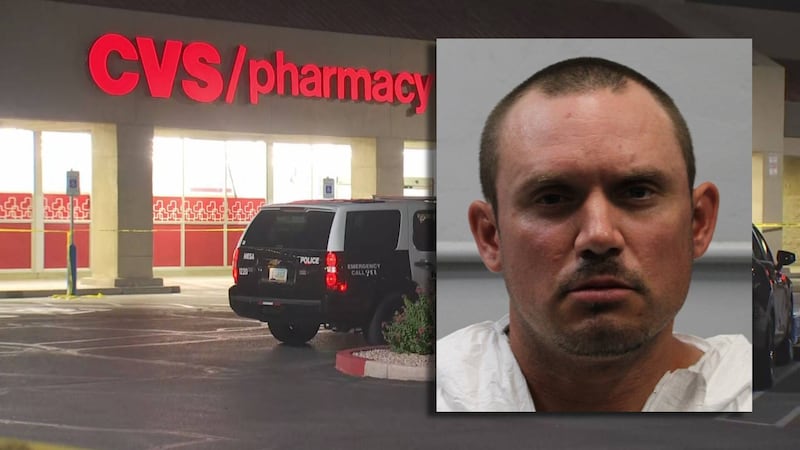 Published: Sep. 8, 2023 at 3:15 PM EDT
MESA, Ariz. (KPHO/Gray News) - Police say a store manager died after being shot inside a CVS Pharmacy in Arizona on Thursday night.
According to the Mesa Police Department, the CVS manager identified as 49-year-old Michael Jacobs was shot and killed inside the store.
Investigators said he was shot several times and rushed to the hospital but later died.
Police arrested 38-year-old Jared Sevey in connection with the shooting.
Authorities said Sevey was inside the store earlier in the day when he began arguing with Jacobs about shoplifting.
After the confrontation, Sevey reportedly went home and grabbed a gun.
Court documents state the 39-year-old told his daughter to go to her grandmother's if he didn't come home.
Sevey then returned to the store armed and told an employee to grab Jacobs. According to court documents, he also asked the employee to get everyone out.
Surveillance video captured Sevey pulling out a gun when Jacobs walked up to the front of the store, police said.
Witnesses told officers that they heard four gunshots as Jacobs attempted to run away from Sevey. However, Sevey followed Jacobs and continued to shoot at him.
Detectives said they were able to arrest Sevey after finding him walking down a nearby street and throwing a gun into a canal. Officers noted that Sevey appeared to be covered in blood.
In an interview with police, Sevey reportedly admitted to shooting Jacobs because he was "tired of being bullied" and "this was the last straw."
He also told officers, "I'm guilty," "I planned it," and "I bet he ain't talking [expletive] no more," court documents stated.
Sevey has been charged with first-degree premeditated murder and tampering with evidence. He is also a prohibited possessor and was not allowed to own a gun due to previous convictions.
Copyright 2023 KPHO via Gray Media Group, Inc. All rights reserved.