Community raising money for Vietnam War veteran that died in the line of duty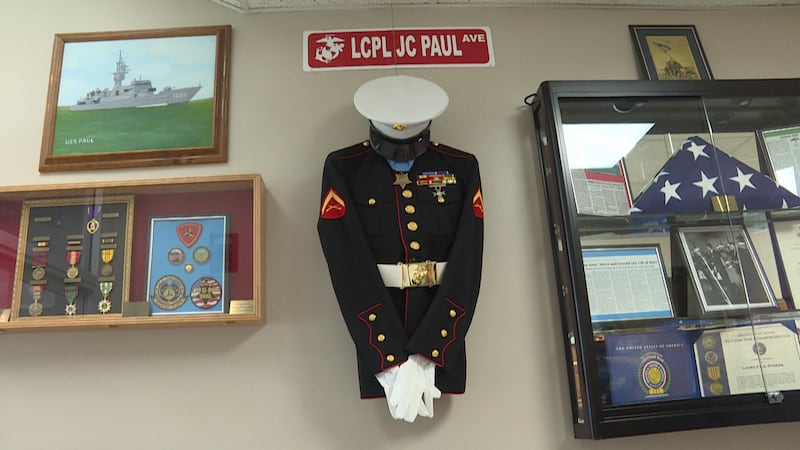 Published: Aug. 26, 2023 at 6:32 PM EDT
WILLIAMSBURG, Ky. (WYMT) - Folks in Whitley County gathered to raise money for a new marker for Lcpl. Joe C Paul who died in the Vietnam War.
Members of the Backroads of Appalachia, J C Paul Detachment of the Marine Corps League and the Whitley County Motorcycle Group organized the event and ended with a ride through Highway 92, where Paul grew up.
James Fryman with the Backroads of Appalachia said it means a lot to have a hero from their county.
"To know that we had a medal of honor winner right here where I grew up, where a lot of us grew up here in the mountains, is absolutely spectacular. So, we had to become involved in that obviously," said Fryman.
However because Paul moved to Dayton, Ohio before enlisting in the Marines, he wasn't recognized as a Kentucky native until a couple of years ago.
"It's here your address is at home, where you enlisted from and where your home is at the time of death and that was Dayton, Ohio. Which he only lived for like two years, two and a half years before he went into the marine corps," said Commandant of the J C Paul Detachment of the Marine Corps League Greg Sims.
He said the past couple of years have been difficult getting things going but added that it is worth it.
"When you get to a point like today, where it's there, even though it's not finished, it won't be for a while, there's still a few things left, a few strings hanging. But to get to this point, is like a giant sigh of relief that we got here," he said.
Fryman said his story needs to be shared with everyone that drives along that road.
"It is his story, it needs to be told and we're doing that as hard as we can go now," he explained.
He added that raising money for the marker will inspire future generations to visit.
"So, people can come here, they can go and see that marker, it will be a point of interest on our mobile app and they'll be able to take pictures with it and really, memorialize and honor him the way he should've been 60 years ago," he explained. "And of course, it's an honor for us at Backroads of Appalachia and the Whitley County Motorcycle Group to be a part of this and honor this hero and tell his story for future generations to see long after we're gone."
You can contact the Backroads of Appalachia here for more information on how to donate.
Copyright 2023 WYMT. All rights reserved.