CIA stairwell attack among flood of sexual misconduct complaints at spy agency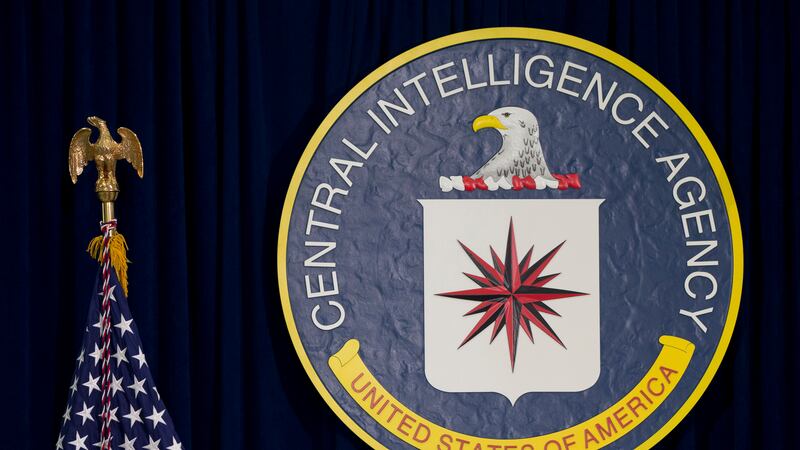 Published: Aug. 24, 2023 at 11:30 AM EDT
|
Updated: Aug. 24, 2023 at 4:13 PM EDT
FAIRFAX, Va. (AP) — In a secluded stairwell at CIA headquarters last year, officer trainee Ashkan Bayatpour came up behind a colleague, wrapped a scarf around her neck and plainly spoke as he tried to kiss her on the mouth.
"There are many uses for this," the woman recalls him saying. "This is what I want to do to you."
Bayatpour was convicted Wednesday of a state misdemeanor charge of assault and battery in a case that was remarkable for breaking through the CIA's veil of ultra-secrecy and playing out in a public courtroom where it has emboldened a sexual misconduct reckoning.
At least two-dozen women have come forward in recent months with their own complaints of abusive treatment within the CIA, telling authorities and Congress not only about sexual assaults, unwanted touching and coercion but of what they contend is a campaign by the spy agency to keep them from speaking out, with dire warnings it could wreck their careers and even endanger national security.
"There are harassers everywhere and bosses that try to cover them up," said Kristin Alden, a Washington attorney who represents some of the women who have filed complaints. "But the whole nature of intelligence work — the culture of secrecy and people working under assumed names — really elevates the chilling effect of retaliation and isolation that victims feel."
Details of Bayatpour's July 13, 2022, stairwell attack have not been previously reported but were confirmed by The Associated Press through court records and by several people familiar with the case who spoke on the condition of anonymity.
The 39-year-old Alabama native and former U.S. Navy intelligence officer has remained on the job for more than a year since the woman reported the assault to the CIA and nine months since she reported it to the FBI and local law enforcement.
Several of the woman's female co-workers attended Wednesday's proceedings, becoming emotional after Fairfax General District Court Judge Dipti Pidikiti-Smith found Bayatpour guilty, sentenced him to six months' probation and ordered him to surrender any firearms and stay away from the woman. His attorney has appealed.
The CIA declined to say whether Bayatpour has faced internal discipline, saying it does not comment on whether individuals are affiliated with the agency.
"This guilty verdict came despite and not because of the CIA," said Kevin Carroll, the attorney for Bayatpour's accuser. The AP does not identify victims of alleged sexual abuse or domestic violence.
"It is a gigantic problem that the agency has not yet begun to get its arms around," he added. "It's an environment where a lot of stuff is secret, and that attracts some bad actors."
Complaints to the CIA's Office of Equal Employment Opportunity about sexual harassment and discrimination this year have already doubled last year's total, detailing 76 separate incidents.
The top Democrat and Republican overseeing the CIA, Virginia Sen. Mark Warner and Florida Sen. Marco Rubio, have called for a watchdog investigation and are considering hearings into why the agency has failed women in their ranks for so long. Since 2018, out of 290 total employment-related complaints, the agency has substantiated just a single case based on sex.
The congressional scrutiny prompted CIA Director William Burns in May to launch a series of reforms to streamline claims, support victims and more quickly discipline those behind misconduct. That includes hiring a psychologist steeped in victim advocacy to lead the agency's fledgling Sexual Assault Prevention and Response Office and replacing the leadership of the CIA office where many of the women say they were discouraged from making complaints.
"Our officers deserve no less than our laser sharp focus on ensuring they have a safe and secure work environment," said CIA spokeswoman Tammy Kupperman Thorp.
Congressional aides told the AP they have interviewed or had contact with at least two-dozen women CIA employees this year. They described misconduct ranging from lewd remarks about sexual fantasies at after-work happy hours to a case in which a senior manager showed up at a subordinate's house at night with a firearm demanding sex. Some of the incidents go back years and took place as officers were on risky covert missions overseas, while others took place at CIA headquarters.
An attorney for some of the women says one claims she was given alcohol on her first day at a new posting and then sexually assaulted by the most senior official. Another contends her supervisor told her on her first day of work that they were "soulmates" and followed up with text messages suggesting sexual trysts.
Washington attorney Kevin Byrnes said many of his clients were told they could not identify their attackers, go to law enforcement or even speak to family members about their claims due to national security concerns or the risk of divulging unspecified classified information.
"The CIA apparently believes that it is not subject to federal law," Byrnes said.
Other previously unknown cases of assault and harassment have surfaced in dozens of appeals filed by CIA employees with the Equal Employment Opportunity Commission, which enforces laws prohibiting workplace harassment based on sex.
They include the case of a female contractor who alleged she endured a "cycle of pressure and manipulation" by a CIA manager who gave her unsolicited gifts, harassed her by email and threatened to expose their relationship to her partner.
In another case, a female CIA employee said one of her co-workers repeatedly discussed bondage, sent her nude photos of women and threatened to get her security credentials revoked unless she had sex with him. Among the unwanted advances was an attempt at work by the co-worker to " airplane feed her pasta, which he spilled on her and then offered to clean up from the front of her shirt in an attempt to feel her breast."
"There's safety in numbers," said Ally Coll, a law professor at the City University of New York and founder of the Purple Method, a nonprofit that has advised Congress on how to strengthen anti-harassment rules at federal agencies. "When you learn that abuse is happening to others, you're more likely to report it and feel a sense of responsibility to help."
Prior to Bayatpour, the only other CIA employee publicly known to have been charged with sexual misconduct in recent years was a former officer fluent in Spanish and Mandarin who federal investigators have described as a "serial sexual offender."
Brian Jeffrey Raymond is alleged to have drugged and assaulted at least two-dozen women while they were unconscious over a 14-year period in which he worked for the agency in multiple countries. But Raymond was only discovered in 2020 after a naked woman he met on Tinder was spotted screaming for help from the balcony of his government-leased apartment in Mexico City.
When the FBI began investigating, they found on his smartphone hundreds of photographs and videos of 24 unconscious naked women. In some, Raymond can be seen opening the women's eyelids, groping and straddling them.
After Raymond withdrew a guilty plea for lesser crimes, a federal grand jury in Washington this year returned a 25-count superseding indictment alleging sexual abuse, coercion and transportation of obscene materials.
In Bayatpour's case, the woman told investigators that when she shouted for him to stop and attempted to flee, he tried a second time to wrap the scarf around her before grabbing her arm, pulling her toward him and kissing her cheek. Later, he messaged her: "You good?"
Bayatpour's attorney Stuart Sears acknowledged his client wrapped the scarf around woman in the stairwell but insisted his actions were intended in jest during a 40-minute walk together. The incident, he said, was "a joke that didn't land the way it was intended to land."
The victim reported the incident to the CIA within 48 hours, only to feel she was victimized again when the agency told her not to go to law enforcement or even tell her family. In an affidavit, she said that as a result of the attack she takes medicine for post-traumatic stress disorder, suffers suicidal thoughts and lives in fear of encountering her attacker in the cafeteria at work.
Said the woman's attorney Carroll: "It's completely unacceptable on every level for this guy to continue to be associated with the agency that I knew."
___
Goodman reported from Miami. AP Investigative Researcher Randy Herschaft in New York and Tara Copp in Washington contributed to this report.
___
Contact AP's global investigative team at Investigative@ap.org.
Copyright 2023 The Associated Press. All rights reserved.