EKY teacher named Teacher of the Year semi-finalist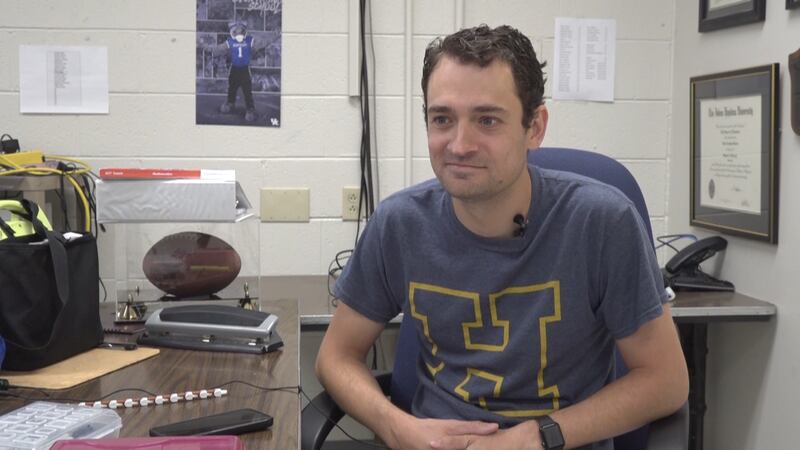 Published: Aug. 14, 2023 at 3:30 PM EDT
HAZARD, Ky. (WYMT) - One Eastern Kentucky teacher is one step closer to winning the 2024 Kentucky Teacher of the Year award.
Luke Glaser is the Assistant Principal and math teacher at Hazard High School.
Now, he is one of 10 teachers and one of three high school teachers competing.
Interviews and application scores will determine the selection of the 2024 Teacher of the year for elementary, middle and high schools. The finalist with the highest overall score will be named the Kentucky Teacher of the Year and will represent the state in the national competition.
The overall winner will receive a $10,000 cash gift, an award and a professional sabbatical opportunity or classroom grant coordinated by Kentucky Department of Education.
The award ceremony is Sept. 13 in Frankfort.
Semifinalists for the elementary Teacher of the Year are:
Katie Hale, Ponderosa Elementary (Boyd County)
Deanna Landrum, Southgate Public School (Southgate Independent)
Justin Moreschi, Klondike Lane Elementary (Jefferson County)
Donnie Wilkerson, Jamestown Elementary (Russell County)
The middle school semifinalists are:
Kevin Dailey, Ballyshannon Middle (Boone County)
Doug Henry, Bullitt Lick Middle (Bullitt County)
Kimberly Thompson, Eastside Middle (Bullitt County)
The high school semifinalists are:
Ryan Davis, Waggener High (Jefferson County)
Luke Glaser, Hazard High (Hazard Independent)
Kumar Rashad, Breckinridge Metropolitan High (Jefferson County)
Copyright 2023 WYMT. All rights reserved.