Second suspect charged in officer-involved shooting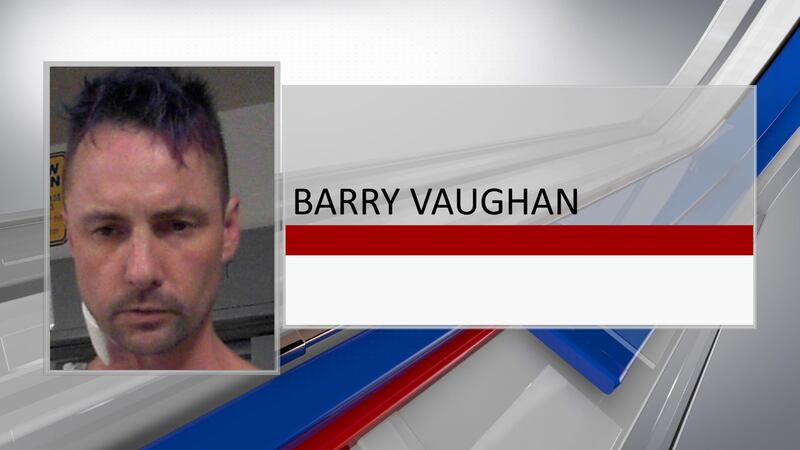 Published: Jul. 20, 2023 at 3:05 PM EDT
LOGAN COUNTY, W.Va. (WSAZ) - The second suspect allegedly involved in an officer-involved shooting on Tuesday, July 18, in Logan County has been released from the hospital and charged.
The Logan County Sheriff's Office said on Thursday Barry Vaughan was released from the hospital and charged with two counts of attempted murder, fleeing with reckless disregard, fleeing causing bodily injury, transferring and receiving stolen property, and obstructing.
Investigators said Marlana Adkins and Vaughan were found parked at an Advance Auto Parts after a 911 call claiming they were shoplifting at a nearby Dollar General. Investigators also said the car they were driving had stolen plates.
Vaughan is accused of acting as if he was complying with officer commands to turn off the vehicle but instead, deputies say he abruptly shifted the vehicle into reverse, pressing the accelerator.
According to the sheriff's office, when Vaughan attempted to reverse the vehicle to leave the parking lot, an officer attempted to grab the steering wheel from the passenger-side window.
The sheriff's office went on to say as one police officer was being dragged by the car, Vaughan is accused of nearly hitting a cruiser with the vehicle and backing on to WV Route 10 into the path of oncoming traffic.
At that time, deputies say a Corporal drew his service weapon and stepped in front of the car, while the police officer continued to attempt to gain control of the vehicle from inside.
Vaughan is then accused of shifting the vehicle in to drive, steering it directly toward the Corporal. Deputies say the Corporal was able to sidestep the vehicle and discharged two rounds from his service weapon, hitting Vaughan.
After shots were fired, the vehicle continued forward and hit a parked car in the parking lot.
Barry Ethan Vaughan, 38, of Ironton, Ohio was life flighted to the hospital and released today, July 20.
The passenger in the vehicle, Marlana Dawn Adkins, 37, of West Hamlin, West Virginia was arrested at the scene. Adkins has been charged with malicious assault on a police officer, transporting stolen property across state lines, transferring/receiving stolen property, and conspiracy.
Check out our previous coverage >>> HERE.
Keep checking the WSAZ app for the latest information.
Copyright 2023 WSAZ. All rights reserved.