Strike looms as UPS contract talks break down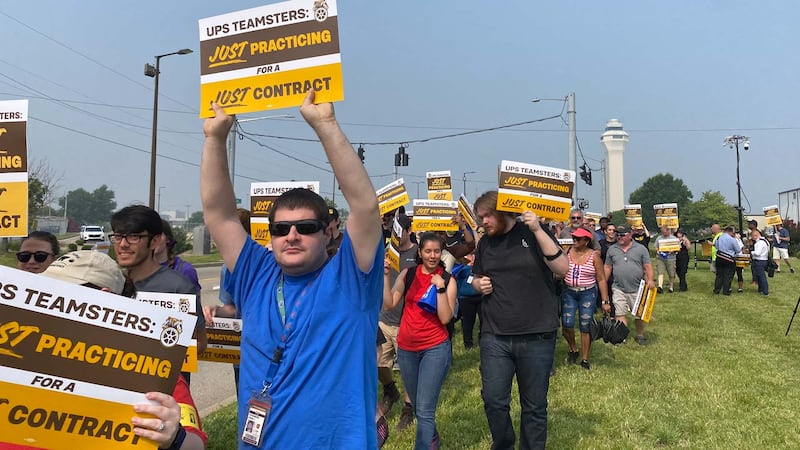 Published: Jul. 5, 2023 at 4:39 PM EDT
LOUISVILLE, Ky. (WAVE) - UPS Louisville operations showed no signs of slowing down Wednesday morning.
The world's largest package shipping company was still on the move after union contract talks fell apart following a marathon session.
"Around 4 a.m., UPS walked away from the bargaining table after presenting an unacceptable offer to the Teamsters that did not address members' needs," a post on the Teamsters' Twitter feed said. "The UPS Teamsters National Negotiating Committee unanimously rejected the package."
"What bothers me most is the disrespect from the company," Teamsters Local 89 member and UPS employee Chris Wallace said.
Wallace delivers packages for UPS and said he was angry and waking up to the news.
Long before talks broke down, he was getting prepared for a possible strike.
"Me personally, I've been saving money to the extent that I've been able," Wallace said. "And then the shorter-term preparations have to do with organizing your coworkers. And making sure they understand the stakes, which are very high right now."
Not just for employees, either. There are concerns about supply chain disruptions and economic consequences if there is a strike.
In a statement Wednesday, UPS said the Teamsters stopped negotiating.
"Refusing to negotiate, especially when the finish line is in sight, creates significant unease among employees and customers, and threatens to disrupt the US economy," A UPS statement said. "Only our nonunion competitors benefit from the teamsters' actions."
UPS is a major Louisville employer, with 26,000 people on the payroll. Nationally in the first quarter, UPS delivered an average of 18.7 million packages a day.
Wallace said he and his fellow employees are waiting for a response from the company.
"Everyone understands that the ball is in UPS' court to make a move," Wallace said. "We know what we deserve, we know what we are worth, and everyone's ready to fight to get it."
Copyright 2023 WAVE. All rights reserved.