Congressman Hal Rogers wins historic 22nd term in office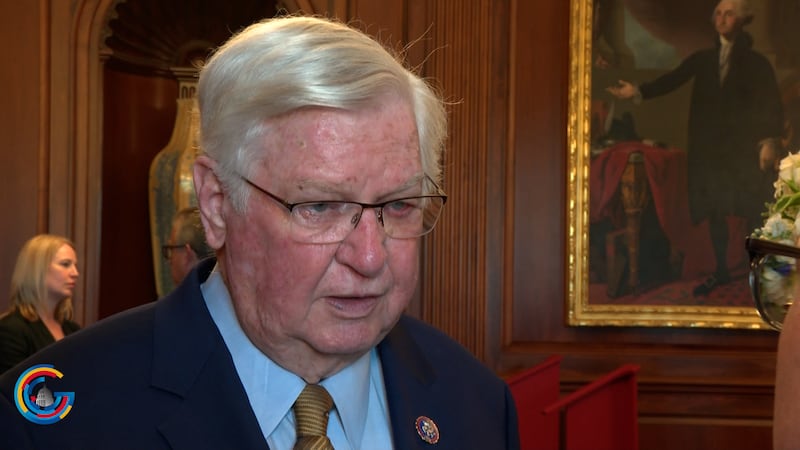 Published: Nov. 8, 2022 at 7:08 PM EST
WASHINGTON (WYMT/AP) - U.S. Representative and Dean of the House Harold "Hal" Rogers has easily won his 22nd term in congress, the Associated Press projects.
Rep. Rogers defeated Conor Halbleib in the newcomer's quest to become the first Democrat to represent Kentucky's 5th House District since 1963, when Brent Spence retired.
He had this to say as his lead continued to grow late into the night:
"It is an honor to receive a resounding vote of confidence from the people of Southern and Eastern Kentucky for a historic 22nd term faithfully representing Kentucky's Fifth Congressional District and serving as the Dean of the U.S. House of Representatives.

"This year, our rural region faced an unprecedented round of challenges, as a result of the catastrophic flood that ravaged Eastern Kentucky in July. From day one, I focused on flood relief efforts and the monumental task of rebuilding our communities. As we look ahead, my work will remain fixated on securing every federal dollar and resource necessary to address our infrastructure needs, to enhance flood control, and to help survivors with the next steps of this long journey.

"In Washington, it's time to get America back on track and I am confident that Republicans are going to change the course of our country toward common sense policies that will bring down this burdensome inflation, secure our southern border, support law enforcement, and restore confidence in our nation.

"The people of Southern and Eastern Kentucky are a reflection of the resilient rural American backbone that continues to strengthen the core of this nation, and it is an honor to continue echoing their voice in Washington, DC."
Rep. Rogers has represented the fifth district since 1981, when he succeeded retiring seven-term Congressman Tim Lee Carter.
Copyright 2022 WYMT. All rights reserved.