Missing Tennessee teens found safe, father's message "monitor your kids a lot closer"
13-year-old Erica Gamerdinger said she was never in danger but decided to run away with Keith Griffith.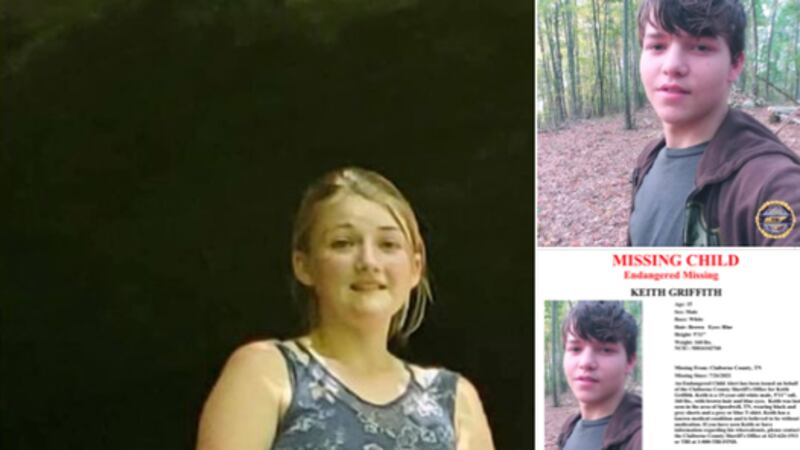 Published: Jul. 27, 2021 at 10:00 PM EDT
|
Updated: Jul. 28, 2021 at 4:30 PM EDT
KNOXVILLE, Tenn. (WVLT) - The Tennessee Bureau of Investigation announced that both teenagers, Keith Griffith and Erica Gamerdinger, have been found safe in Harrogate, TN.
Erica was spotted by someone at the Dollar General in Harrogate. Giffith and her were skating on top of the mountain and "were going to run away together and never come back," according to Gamerdinger's father, Jamie Gamerdinger.
Erica told her parents she was never in danger and that she and Keith were in a secret online relationship through Facebook, Jamie said.
Jamie's message now is to "monitor your kids a lot closer" and thanks law enforcement and others for searching diligently.
WVLT News spoke with Erica's parents, Jen and Jamie, when their daughter first went missing. They told WVLT that Erica sent a text to her mother with the message "SOS" and a map of a location at the campground.
The East Tennessee Valley Crime Stoppers has 16 active missing people on their website, and Stacey Payne with Crime Stoppers says the increased social media posts has presented a challenge. Payne says the increase in social media posts makes it harder for people to take the time to see and truly look at each case to help find a positive result.
Payne said the best way to help is by retweeting and sharing each post, and if you provide any updates with Crime Stoppers that leads to a successful and safe return you're eligible for a cash reward.
Copyright 2021 WVLT. All rights reserved.