Gov. Beshear reports more than 2,000 total COVID-19 deaths, positivity rate now at 10.07%
Published: Dec. 3, 2020 at 3:54 PM EST
FRANKFORT, Ky. (WYMT) - Governor Andy Beshear reported the third-highest day for deaths reported in one day in his update Thursday.
You can watch that here:
The governor announced 3,895 new cases and 34 new deaths in Kentucky.
The positive rate has increased to 10.07%.
Thursday was the third-highest day for total deaths reported in a day. The highest was reported Wednesday and the second highest was reported Tuesday.
At least 190,601 Kentuckians have contracted the virus. The death toll is now at 2,014.
28,755 people have recovered from the virus. 2,902,833 Kentuckians have received tests.
"Today, we passed some tough milestones both in the country and here in Kentucky. Today is the toughest day our country has ever seen during the COVID-19 pandemic, as we lost more people than any other day this year. We're also at record hospitalizations across America," said Gov. Beshear. "This ought to show us and tell us that now, more than ever, we need to do the right things to protect those around us."
Beshear announced which hospitals will get the first dose of the COVID-19 vaccine. Click here for the details.
The governor also extended the mask mandate for another 30 days.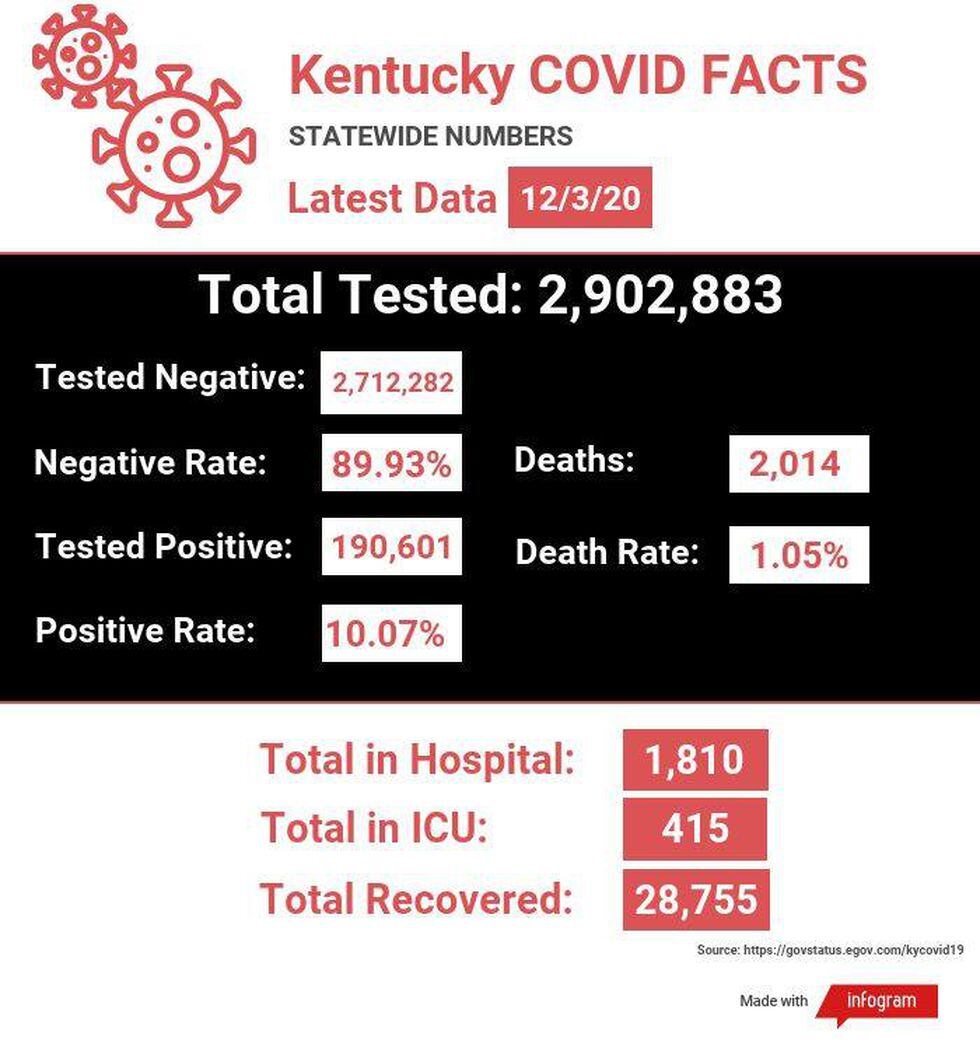 As of Thursday, 113 out of 120 counties are in the red zone on the state's COVID-19 incidence rate map.
You can see how your county is doing right now here.
If you have any questions about the coronavirus in Kentucky, call the state's COVID-19 hotline at 1-800-722-5725.
You can also find more information, including how to protect your family, by visiting Kentucky's official COVID-19 website: https://govstatus.egov.com/kycovid19
Copyright 2020 WYMT. All rights reserved.