Governor Beshear announces commutations of 646 inmates, 688 new COVID-19 cases Tuesday
Published: Aug. 25, 2020 at 4:03 PM EDT
|
Updated: Aug. 27, 2020 at 6:13 AM EDT
FRANKFORT, Ky. (WYMT) - Governor Andy Beshear held his daily news conference on Tuesday's COVID-19 update.
You can watch the news conference here:
The governor announced 688 new cases and 10 new deaths in Kentucky.
At least 44,568 Kentuckians have contracted the virus. The death toll is now at 895.
9,594 people have recovered from the virus.
831,302 Kentuckians have received tests
"This continues to grow the percentage of kids testing positive, and we know not as many kids are being tested. But with people going back to sports, go get your kid tested," the Governor said. "Don't show up to a big group activity if they haven't been tested in the last couple of weeks. Please make sure they get tested."
Lt. Gov. Jacqueline Coleman and Beshear announced a plan to allocate $8 million to provide "Last Mile" internet service to all Kentucky students from kindergarten through 12th grade.
"COVID-19 has not only created new and unique challenges we must confront, it has brought to surface issues that have been plaguing our communities for generations. These underlying issues disproportionately affect communities of color and Kentuckians who live in poverty," the Lieutenant Governor said. "One of these issues is lack of access to high-speed internet."
Secretary of the Kentucky Cabinet for Health and Family Services, Eric Friedlander, spoke about the Pandemic Electronic Benefit Transfer (P-EBT) program. Since late May, Kentucky families with students who usually receive free or reduce-cost meals at school have been eligible for financial assistance to replace those meals.
"About 173,000 students in Kentucky's public and private schools have been approved for these benefits," Secretary Friedlander said. "They've received a preloaded P-EBT card, and cardholders have been able to shop for food at local groceries, Amazon.com and Walmart.com."
Friedlander said more than 115,000 eligible Kentucky households have not applied for the P-EBT benefits.
Secretary Friedlander said the deadline to apply for the P-EBT program is Monday, Aug. 31, benefind.ky.gov.
"There is no cost to the recipient, and families who receive P-EBT benefits will not have to pay back the benefits," Secretary Friedlander said. "These benefits are not taxable."
Beshear and J.Michale Brown, secretary of the governor's executive cabinet, once again announced the commutation of sentences for hundreds of medically vulnerable inmates and inmates who are nearing the end of their sentence to reduce spreading the coronavirus. Brown said those receiving a commutation have been screened and that they have not been convicted of violent crimes or sex offenses.
Three previous rounds of commutations by Beshear covered 1,235 inmates. As of July 6, 2020 the total number of inmates released was 1,171.
"I believe the last round of commutations was fairly successful at getting people back in society and making sure they are healthy, and we are looking for the same here," Gov. Beshear said. "I wish each of those individuals a better life moving forward, one that is constructive, one that they can find purpose in, whether that be faith, family or a good job. Let's help make sure we can work with these individuals and give second chances."
"Today's signed executive order has 646 individuals receiving commutation from the Governor," Secretary Brown said.
121 of the 646 commutations are inmates who are medically vulnerable according to guidelines from the U.S. Centers for Disease Control and Prevention. Another 525 are inmates who have less than six months left to serve.
"The Governor's actions today are taken to ensure that all Kentuckians, including those behind bars and the hardworking staff of corrections officers and deputy jailers, are given a chance to be healthy and safe in this fight against COVID-19," Secretary Brown said.
"On Aug. 26, 2019, the Department of Corrections had 24,200 inmates. Today, we have 19,689," said Secretary Brown. "That's a reduction of 4,511 in our prison system. That's good for everyone in the commonwealth."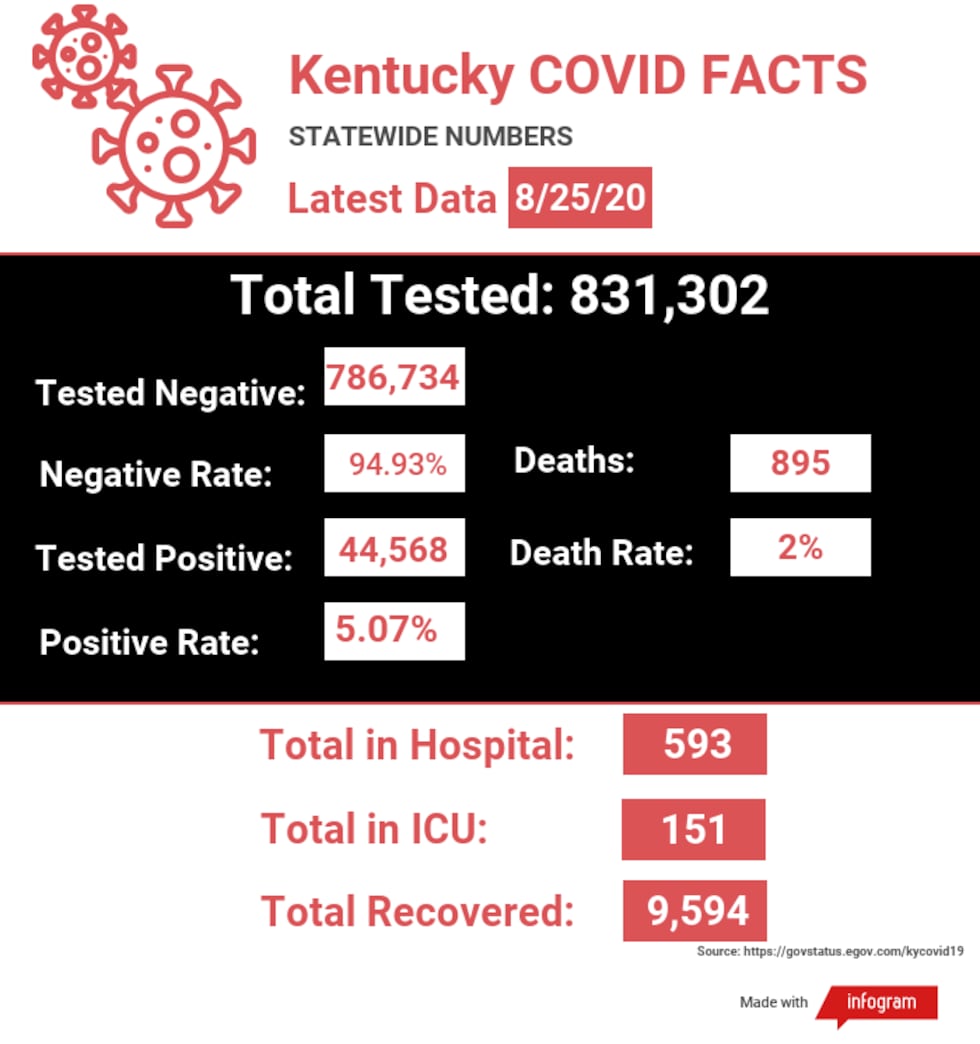 WYMT independently confirms all coverage area positive COVID-19 cases, along with any coronavirus-related deaths, with local health departments before publishing any details.
If you have any questions about the coronavirus in Kentucky, call the state's COVID-19 hotline at 1-800-722-5725.
You can also find more information, including how to protect your family, by visiting Kentucky's official COVID-19 website: https://govstatus.egov.com/kycovid19
Copyright 2020 WYMT. All rights reserved.